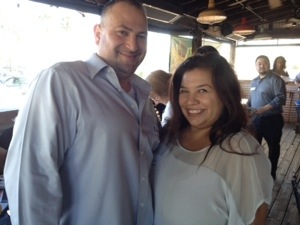 BY BRANDY TUZON BOYD
THE NATOMAS BUZZ | @natomasbuzz
The It's A Grind coffee house in Natomas will close permanently today at 1 p.m.
Longtime owners Victor Villegas and Monica Rodriguez, pictured here, said Friday night closing the cafe was a business decision.
"We want to thank our extremely loyal customers for all their continued support," Rodriguez said. "We will cherish the memories we built here in Natomas!"
Rodriguez bought the It's A Grind franchise location from the original owners seven years ago, she said.
The cafe typically employed between 12 to 18 workers at any given time including local high school and college-age students. Workers were informed of the closure on Friday.
Rodriguez said she plans to continue in her role as a Natomas Chamber of Commerce board member.
"…we love Natomas and want to continue to be part if this amazing community," she said.
It's A Grind opened in Natomas in 2005. It is located at 2731 Del Paso Road in Suite 100.