BY BRANDY TUZON BOYD
THE NATOMAS BUZZ | @natomasbuzz

Ashley Furniture and Burlington Coat Factory plan to open new stores this fall in Natomas.
"We want to open before Black Friday," said Samantha Nieto from the Ashley Furniture offices in Colton, Calif.
Ashley Furniture is targeting a Nov. 15 open date, Nieto said. Burlington Coat Factory is scheduled to open Oct. 11, according to the company's website.
Work is currently under way to construct a wall inside the 134,000 square-foot commercial building previously occupied by Sam's Club, and convert the former warehouse store into two separate tenant spaces which will house Ashley Furniture and Burlington Coat Factory.
Ashley Furniture purchased the retail warehouse, located at 3671 N. Freeway Blvd., from DBI Natomas LLC for $10.85 million in July 2012. The building sits on 12.54 acres in the Promenade Shopping Center.
According to plans submitted to the city of Sacramento in May 2013, HMC Construction is the general contractor on the project. Ashley Furniture will occupy approximately 74,000 square feet of the building and Burlington Coat Factory approximately 60,000 square feet.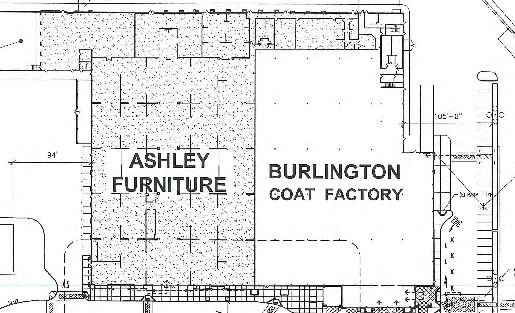 "We're looking forward to moving into a new area," said Nieto.
Ashley Furniture is based in Arcadia, Wisconsin and has retail stores located throughout the United States and Canada. It is the largest furniture manufacturer in the United States.
A new Ashley Furniture store is scheduled to open in Folsom on August 23, Nieto said. Hiring has started for both stores and will likely continue into September for the new Natomas location, she said.
The Ashley Furniture store will employ about 30 workers, according to Nieto. Burlington Coat Factory will bring approximately 75-100 new jobs to the area, according to a press release issued last month.
"We are thrilled to open a new Burlington in the Sacramento community, bringing jobs to the neighborhood and providing residents with a valued shopping experience," Burlington president and chief executive officer Thomas Kingsbury said in the press release. Burlington is an off-price retailer with more than 500 stores in 44 states and Puerto Rico
Sam's Club at the location for about three years. The building has stood empty since the warehouse store closed in January 2010.
Ashley Furniture is scheduled to hold a job fair 8 a.m. to 3 p.m. today, July 26 at the Residence Inn by Marriott, 2555 Iron Point Road, in Folsom.