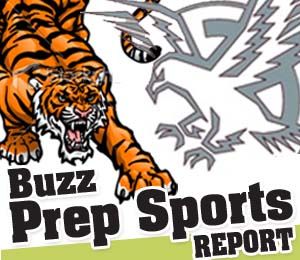 BY TREVOR HORN
THE NATOMAS BUZZ | @natomasbuzz
updated 11 p.m. on April 29, 2013
Inderkum and Natomas High girls' soccer will battle for playoff positioning tonight.
The teams will play 7 p.m. at Inderkum for the season finale. That game will be followed (on Wednesday, May 1) by the teams playing the second half of the game suspended on April 11 due to unsafe field conditions which Natomas High was leading, 1-0.
The Inderkum girls' soccer team clinched their second consecutive Tri-County Conference title last week. The Lady Tigers (12-4-4 overall, 6-0-2 TCC) defeated second-place River Valley High  School 3-0 last Tuesday and tied Pioneer High School 0-0 at home on Thursday.
The Lady Nighthawks are currently on the right side of the Sac Joaquin Section Division III playoff bubble.
Natomas High (7-6-4, 2-2-4) currently sits in the third and final playoff spot in the TCC. The Lady Nighthawks tied Pioneer High (1-1) on Tuesday and Evelyn Cordero scored two equalizing goals in a 2-2 tie against Yuba City High School on Thursday.
To make the playoffs, the Lady Nighthawks will need a win or a tie in either game tonight against Inderkum or for Pioneer High to beat Woodland High today.
Boys' Baseball: Inderkum's playoff hopes might have been lost after a 12-2 loss to Pioneer High on Wednesday, but that didn't stop the Tigers from ruffling some feathers. Inderkum finished off the three-game series against Pioneer High with a 7-4 win on Friday, putting the Patriots hopes of a TCC title in jeopardy.
Austin Thurman led the Tigers (12-12, 3-9) with three hits in four at-bats. The sophomore had a home run, a double and three RBI as fellow underclassmen Alex Nieto (3-5, 2 RBI), Carl Anderson (2-4, double, RBI) and Robby Beckman (5 1/3 innings, 5 Ks) all had standout performances in the win on Friday.
Beckman has put in two solid outings on the mound after a rough start the season. He has two wins and has pitched 12 1/3 innings in the past two Friday games for Inderkum with eight strikeouts and yielded just four earned runs.
It continues to be a rough season for Natomas High baseball with the Nighthawks losing 5-0 to Yuba City High last Friday. Natomas High finished the first full seven-inning game in league play and had runners on base in six of those innings. The Nighthawks (2-16, 0-12) previously had given up at least 11 runs in every league game.
Last week's performance means the season-ending series at Inderkum this week could prove interesting. The first game is at Natomas High. Inderkum will host on Wednesday and the season finale for both teams is Friday at Natomas High. All games start at 4 p.m.
Girls' Softball:  Natomas High softball plays Tuesday at home against Yuba City.
The Honkers are 4-4 in league games and currently sit in fourth place. Three teams from the TCC earn playoff berths and the Lady Nighthawks (7-18, 0-8) can play spoiler to Yuba City's playoff hopes Tuesday while trying to notch their first TCC win.

Four seniors will be honored before the game, including power hitter AJ Tinoco, who is second on the team with a .321 batting average and leads the league in home runs (7) and RBI (29). It will also be the final game for seniors Katerina Gonzales, Cristina Munguia and Shantel Mier.
Inderkum finishes out the regular season with two home games this week.
The Lady Tigers (5-12-1, 1-7) host Pioneer on Tuesday.
Cailin Garmon recovered from a "dead arm" during last Tuesday's 8-2 loss to Woodland High to pitch a complete game in the 2-0 loss to River Valley High on Thursday.
Inderkum will host Natomas High on Thursday in the season finale for both teams. The game starts at 4 p.m.
Track and Field: Domonique Norton-Smith won three events in a solid performance from the Natomas High track and field against Yuba City High last week. Norton-Smith tied for first in the girls' 100-meters with a time of 14.08 seconds and won the 200 (30.48) and the 400 (71.14).
Emmanuel Augustus was a double winner on the boys' side for the Nighthawks. The senior won the 200 (23.77) and the 400 (54.66) and took second in the 800. Charlie Flournoy tied for first in the boys 100 (11.34).
Other top finishers: Daniel Guttierrez finished third in the boys 200 and Sarya Lira finished second in the girls 200. Aaliyah Goode finished second in the high jump and third in the discus.
On the junior varsity boys' team, Carl Dixon (110, 300 hurdles), Retu Dupree (100, 800), Ali El-Badry (1600), Terrence March (discus) and Tivon Johnson (long jump) all won events.
On the girls' JV side, Danisha Gipson (100 hurdles, 100 meters), Frankia Santiago (1600, 3200), Kiara Franklin-Monk (300M hurdles) and Kimberly Nelson (200M, long jump) all came away in first place.
The final TCC dual meet between Inderkum and Natomas High will be held 3:30 p.m. at the Natomas football stadium on Wednesday.
---
Call in scores or give story ideas to Trevor Horn at [email protected] or call at (916) 390-8593. Follow Trevor on Twitter @trevhorn