BY TREVOR HORN
THE NATOMAS BUZZ | @natomasbuzz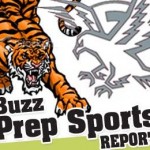 The north end zone lights at Natomas High School football stadium never turned on Thursday evening and the Tri-County Conference girls soccer match between Inderkum and Natomas High Schools was postponed for a date still to be determined. The game was called because of unsafe field conditions.
The Lady Nighthawks led the game 1-0 on a 28-minute goal by sophomore Evelyn Cordero. When the game is rescheduled, it will start at the beginning of the second half, according to Natomas High Athletic Director Anthony Agrella.
The Lady Nighthawks (7-4-2, 2-0-2) host Woodland High School Monday at 7 p.m. and travel to River Valley High School on Wednesday.
Inderkum (9-4-1, 3-0-1), No. 1 in the TCC, travel to Yuba City High School Monday and then will host Woodland at 7 p.m. on Wednesday.
Baseball: It's been a rough go for both the Inderkum and Natomas High baseball teams in the always-tough TCC.
The Tigers (9-9, 0-6) were swept by top ranked Woodland High (12-6, 6-0) in last week's series (9-4, 8-5, 9-5). Despite the losing streak, senior Troy Thomas has been a bright spot at the plate for Inderkum.
Thomas has hit safely in all six TCC games and is 7-18 during the streak with seven RBI, two doubles, a triple and a home run.
Thomas, along with Austin Thurman, give the Tigers a formidable punch in the heart of the lineup. Thurman leads the league with 22 RBI and Thomas has 21.
The Tigers host River Valley High School Monday and Wednesday and are on the road Friday against the Falcons. All three games start at 4:15 p.m.
The Nighthawks (2-10, 0-6) lost last week's series last week to River Valley. Natomas High will play this week against Pioneer Monday and Friday with a home game on Wednesday. All games at 4:15 p.m.
Softball: The Lady Nighthawks went to extra innings last Wednesday in a non-league game against Galt High School. Galt scored five runs in the top of the ninth to beat Natomas High, 12-8.
Natomas High (7-13, 0-4) host Inderkum (4-9-1, 0-4) Tuesday at 4:15 p.m.
The game should be a battle of power pitchers between Lady Nighhawks junior Jervoni Culp and Inderkum senior Cailin Garmon.
Culp leads the league with 101 strikeouts and Garmon is second with 79.
Natomas High also host Woodland, undefeated in TCC, on Wednesday as Inderkum travels to Yuba City the same day.
Track and Field: Four Natomas High track and field athletes came away with first-place finishes in a dual home meet against River Valley High School on Wednesday. Ahsan Gaskins won the boys 110 hurdles (16.65 seconds) and the 300 hurdles (44.9) and Domonique Norton-Smith won the girls 200 (28.6) and 400 (1:06).
Charlie Flournoy won the boys 100 (11.1) and Emmanuel Augustus won the boys 400 in 53 seconds.
The boys 4×100 meter relay team of Flournoy, Augustus, Gaskins and Daniel Guttierrez won with an impressive time of 46.09 seconds.
Senior Michael Gross finished second in the boys discus and sophomore Keyair Samuel finished third in both the boys discus and shot put. Senior Aaliyah Goode finished second in the girls two-mile and Sayra Lira finished third in the girls 200.
Boys Tennis: Natomas High boys tennis lost to Pioneer High School 9-0 on Wednesday. The Nighthawks host Yuba City High School Monday at 3:30 p.m. and are at Inderkum Wednesday afternoon.