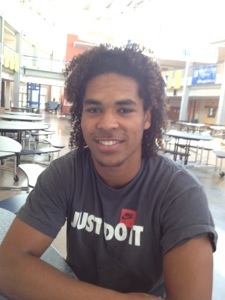 BY TREVOR HORN
THE NATOMAS BUZZ | @natomasbuzz
Inderkum High School quarterback CJ Spencer this morning was offered a scholarship to play football for West Point.
This is the first offer for Spencer who threw for 1,921 yards, 21 touchdowns and five interceptions in 2012 as a junior for the Tigers.
Spencer was surprised by today's offer, saying he had never been contacted by U.S. Army coaches prior to receiving a call today, April 18.
"It was out of the blue because I had never talked to Army," Spencer said. "But they said, 'We like you. We saw your film and want to offer you.'"
The right-handed, 6-foot-2 quarterback added he is relieved to finally get his first offer after months of waiting.
"This is a relief and a joy," he said.
Spencer said Army offensive coordinator and associate head coach Ian Shields called him at about 7:30 Thursday morning to make the offer. West Point is an independent Division I program and finished the 2012 season with a 2-10 record.
Spencer's mother Margit is an U.S. Army veteran. She said she was so excited about today's offer to her son that she was "bouncing off the walls."
Spencer plans to attend Junior Day at UC Davis this weekend where college football coaches meet high school juniors and tour the campus.
Spencer said he will attend the University of Wyoming Spring Game on April 27. Spring games are inter squad college football scrimmages at the end of annual spring practice schedule.
Attending Junior Days and spring games can lead to athletic scholarship offers.
A Fresno State football coach was at Inderkum this morning to meet with Spencer.
---
Contact Trevor Horn at [email protected] and follow on Twitter @trevhorn.