THE NATOMAS BUZZ | @natomasbuzz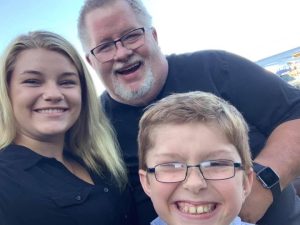 Kevin Terry Stead, 53, passed away on April 19, 2023 in Sacramento, California. He is survived by his ex spouse, Joni Stead and their two beloved children, Sierra Constance (20) and Jonathan Thomas (14), his sister Stacy DiGregorio (Stead), brother-in-law, Mark DiGregorio, sister-in-law, Suzan Landes, nieces AJ, Ella, Cassidy and nephew Kody. Kevin was preceded in death by his parents John Henry and Marion Constance (Terry) Stead.
Kevin was born in Santa Barbara, California on November 4, 1969. He lived on the beautiful California Central Coast in Ventura throughout his childhood. His family moved to Los Osos and Kevin attended and graduated from Morro Bay High School in 1987. The Central Coast remained one of his favorite places in the world. After high school, Kevin relocated to Sacramento to attend Sacramento State University to study criminal justice. He has resided in the Sacramento area for 35 years, living the last 17 years in Natomas Park with his family.
Kevin and Joni married in Florence, Oregon in 2005. In 2006, Natomas became home for their family and for those that knew him well, the basset hounds, Bailey and Tali. Kevin was a supporter of the local schools and valued the community.
While he had a strong passion for criminal justice, law enforcement and the military, Kevin ultimately found his niche career at UC Davis Medical Center in the IT Department. He was an integral part of the DSG team as a Senior Clinical Applications Professional for 18 years. He was loved, and friends with coworkers and the departments he supported, and considered his UCD team to be family.
Kevin will be remembered for his love of the Dodgers, Star Wars, building Lego and his dedication and commitment to his work and family. He was a friendly neighbor who always had a story to share. Our family is saddened by the unexpected and sudden loss of his life.
While we celebrate and cherish fond memories of Kevin, the family would like to use this opportunity to help anyone with mental illness or anyone in need of help to reach out to friends, family, co-workers or professionals. Kevin's death was a preventable tragedy that shows us how valuable life is and that every day is a gift.
A small gathering to honor Kevin will be held at a later date. In lieu of flowers, a fund has been set up to assist with Kevin's final arrangements and to help Sierra and Jonathan as they navigate their lives without their father. Donations may be made online at https://www.gofundme.com/f/kevin-stead-services-and-help-for-his-children.
Help is available. Speak with someone today at the 988 Suicide & Crisis Lifeline by calling "988," sending a text message to "988" or chatting online (click here). Available 24 hours a day.