BY SUMITI MEHTA, D1 PARKS COMMISSIONER
FOR THE NATOMAS BUZZ | @natomasbuzz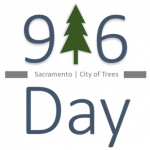 The Sacramento City Council this week adopted a resolution declaring Sept. 16, 2022 as a "916 Day."
"916 Day" is meant to encourage all Sacramentans to celebrate and show love for the city and its parks.
The city's Youth Parks and Community Enrichment Commissioners will host a series tree plantings, cleanups and mulching events at multiple parks throughout the city promote volunteerism and to highlight how parks create a strong community.
The Parks Commissioners aim to recruit and bring together 916 volunteers across these events and enact "916 Day" events every year.
"916 Day celebrates Sacramentans and provides avenues to building strong communities and neighborhoods," said District 3 Parks Commissioner David Guerrero.
A mulching and cleanup event is set for 10 a.m. on Saturday, Sept. 17 at the North Natomas Regional Park in partnership with Vice Mayor Angelique Ashby's office, the city Youth Parks and Community Enrichment department and teen volunteers from the Youth Action Corps.
The resolution establishing "916 Day" was approved by city council members at their Sept. 13 meeting. Click here to register and for a full list of "916 Day" events in the city.