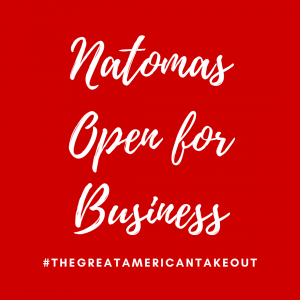 THE NATOMAS BUZZ | @natomasbuzz
Updated March 29, 2020
Restaurants may still operate during the statewide shelter-in-place order as long as food is picked up to go.
While some Natomas eateries have shuttered temporarily as a result of the COVID-19 crisis, several remain open. Here's a roundup of Natomas restaurants open* for take out and/or delivery:
Alamar Marina Restaurant & Bar (Thursday-Sunday)
Anthony's Italian Restaurant
Applebee's
Bad Bakers
Bangkok Garden Thai Cuisine
Bangkok City Thai Cuisine
Baskin Robbins / Togo's
Beach Hut Deli
BJs
Black Bear Diner
Buffalo Wild Wings
Carl's Jr
CF Cheng
Chaat Kafe
Chang's (next to Raley's)
Cheesesteaks
Chevy's on the Levee
Chicken & Waffles
Chili's
Chipolte
Coffee Break Cafe
Cold Stone Creamery
Crazy Sushi
Del Taco
DeLuna
Delhi Oven
Denny's
Dickey's BBQ
Don Quixote
El Bramido
El Burrito Taqueria
Falafel Corner
Fil-am
Firehouse Subs
Fire Wings
Five Guys
Hot Off the Griddle
IHOP (both)
I Love Teriyaki
In-N-Out (both)
India Oven
Jack in the Box
Jack's Urban Eats
Jamba Juice
Jersey Mike's Subs
Jimboys
Las Cachanillas
Kiki's Chicken Place (Northgate)
Kobe Sushi Natomas
Koshi Ramen Bar
Kusina @ Lumpia
Long John Silvers
Maestro Cafe
McDonald's
Monsoon Burger
Mountain Mike's
Mr. Pickles
New Blue Sky Chinese Restaurant
Ono Hawaiian
Original Mel's
Panda Express
Panera (near Target)
Papa Johns
Papa Murphy's
Pho Viet 2
Poke Ichii
Poke Fix
Rico's Pizza
Round Table
Rubio's
Ruchi Natomas
Sandwich Spot
Shalimar
Sizzler's
Subway (4680 Natomas Boulevard and inside Walmart)
T-4 Natomas
Tapioca Express
Taqueria Rincon
Tasty Hawaiian BBQ
Teriyaki Time
Thai Princess
Thai Spoon
Togo's / Baskin Robbin's
Vampire Penguin
Virgin Sturgeon Restaurant on the River (Thursday to Sunday, 11:30 a.m. to 6:00 p.m)
Wayside Noodles
Wienerschnitzel
Willie J's
A social media initiative #TheGreatAmericanTakeout is asking Americans to order takeout or delivery from their favorite restaurant to support the industry during this time. Once you get your order, you can post on social media using the hashtag #TheGreatAmericanTakeout.
---
*This information is subject to change and many restaurants are operating on adjusted schedules.