THE NATOMAS BUZZ | @natomasbuzz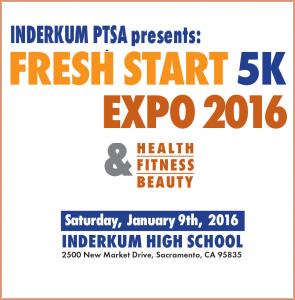 The Inderkum High School PTSA will host the Fresh Start 5K & 3rd annual Health Fitness Beauty Expo at the school on Jan. 9.
The Fresh Start 5K starts at 8:30 a.m. with a kids one-mile run at 9 a.m. The Health Fitness Beauty Expo will be held 9 a.m. to 1 p.m.
"This community wide event is guaranteed to provide the tools and resources for healthy living New Year's Resolutions," said Sonia Mercado, PTSA President. "The previous (expos) were a great success and we want to ensure everyone starts off the New Year right with great information on health, wellness and beauty."
All proceeds from the event will benefit the Inderkum High School graduating class of 2016 for a Safe and Sober Grad Night.
The Fresh Start 5K & Expo aims to promote public awareness to healthy living with a 5K fun run and a variety of health, fitness, and beauty vendors, several fitness classes from Zumba, Kaia Fit, Cardio Boxing, Turbo Kick, and a Kids Fitness Zone.
The City of Sacramento Firefighters who recently ran in the California International Marathon with their fire gear will once again run in their fire gear at the Fresh Start 5K. There will also be live entertainment, fun, and more.
Inderkum High School is located at 2500 New Market Drive.
---
There is a registration fee for the Fresh Start 5K. Admission to the Health Fitness & Beauty Expo is free however a $5 donation is requested for the fitness classes. To register, visit www.inderkumptsa.org.