BY TREVOR HORN
THE NATOMAS BUZZ | @natomasbuzz
Correction: An earlier version of this story misspelled the names of athletes Raekwon Turner and Ontaria Smith. We regret the error.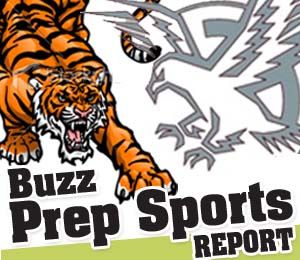 A total of 10 members of the Inderkum High School track and field team will compete in the Sac-Joaquin Section Masters Track and Field Championships Thursday and Friday at Elk Grove High School.
Inderkum High senior Anthina McCaskel was named Inderkum High female athlete of the year for the Tigers then went out and won the DII/DII section title in the high jump last week at Bella Vista High School in Fair Oaks. Inderkum girls finished eighth with 27 team points. The boys finished 13th with 14 team points.

McCaskel is ranked fourth in the section with a jump of 5-feet-4 which she cleared at the Tri-County Conference Championships on April 30. Her jump of 5-3 in the section finals bested a field that consisted of two of the top-three high jumpers in the section, a good indication of how the senior could perform during this week's competition.
The top three athletes in each event at Masters automatically quality for the CIF State Meet on June 6-7 at Buchanan High School in Clovis.

"This year we ran hard throughout the year," Haymer said. " … in hopes to peak at the Masters meet."
McCaskel, despite a nagging quadricep strain in her left leg, has a solid shot of advancing to state. She has had her best jumps against top competitors, which could be a huge advantage on Friday. 

"It motivates me to do better," McCaskel said of going against the best in the section. "I'm excited. If I make it (to state), it would be be big."

Fellow senior Gabriel Robertson will run in the boys 110 hurdles at Masters. Robertson ran a season-best 15.09 at section finals. Haymer said Robertson "performs to the level of the competition" and has confidence he can advance to the finals on Friday.
"You might see him run in the 14.50 range this week," Haymer said.
The boys 400 relay team of Robertson, juniors Kyree Ayo and Keenan Maupin and Raekwon Turner also advanced to Masters with a time 43.23. Woodcreek High of Roseville boasts the top 400 relay team in the state with a time of 40.93.

Sophomore Tyla Graves will run in the girls 100, 200 and is on the 400 relay with Mariah Burke, McCaskel and sophomore Ontaria Smith. The group finished fourth at sections. Smith is the lone returner from the 400 relay team for Inderkum that finished 8th at sections last year, but missed qualifying for Masters.
"I'm excited to go this year," Smith, 16, said. "If we have good hand offs and run well, I think we can advance. If not, we will set a (personal record)."
Graves also boasts the fourth best long jump in the section this season (18-6) and finished fourth at section finals at 16-9 ½.
"If she gets good starts on her jumps, she has a solid shot of advancing," Haymer said.
Both the boys and girls track teams at Inderkum finished second in the Tri-County Conference this spring. ere both named all-TCC for the Tigers and Charlie Flournoy of Natomas High School was also honored.
Burke, McCaskel, Whitney Erby and Leah Richardson for Inderkum were named all-TCC. Natomas High boys and girls both finished in sixth place in the final season in the TCC before moving to the Golden Empire League in the Fall. No Nighthawks advanced to Masters.
---
Intern Anthony Barnes contributed to this report. Follow Trevor Horn on Twitter @trevhorn for live updates from Masters on Thursday and Friday.