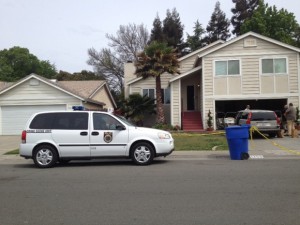 THE NATOMAS BUZZ | @natomasbuzz
Sacramento police have arrested a 19-year-old man on suspicion of murder in yesterday's shooting in Natomas.
Police said via social media the suspect was identified as a person of interest early in the investigation and was located this morning in the 5400 block of Rocklin Road. Police are withholding the suspect's identity due to the ongoing investigation.
At about 11:39 a.m. on April 23 Sacramento police were called to the 1300 block of Pebblewood Drive on reports of a shooting.
Officers found a 39-year-old victim suffering from multiple gunshot injuries upon arrival.
The Sacramento Fire Department rushed the man to the hospital where he died as a result of his injuries.
Police believed the suspect fled moments after the shooting. Crime Scene Investigators were called and continued to assist with the investigation.
Police reported they had detained a "person of interest" related to the case earlier today via a post on Twitter.
Crimes Scene Investigators were called to the scene to assist with the ongoing homicide investigation.
The Sacramento Police Department urges anyone with information pertaining to this crime to contact the dispatch center at (916) 264-5471 or Crime Alert at (916) 443-HELP (4357) or in a tip to 274637 (CRIMES). Enter SACTIP followed by the tip information. Callers can remain anonymous and may be eligible for a reward of up to $1,000.