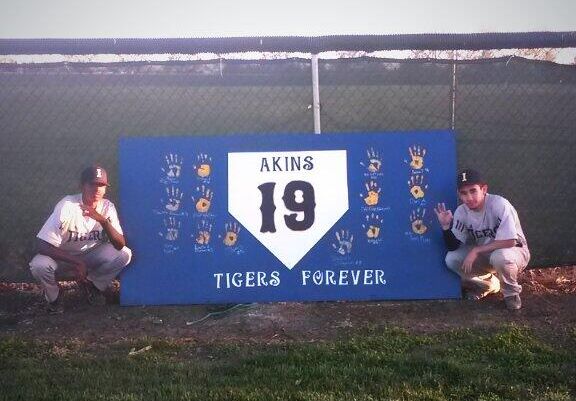 BY JOSHUA GRAHAM
FOR THE NATOMAS BUZZ | @natomasbuzz
The Inderkum High School baseball team payed tribute to former teammate Dylan Akins at its season opener this week.
Akins played varsity baseball three years for the Tigers as a pitcher and first baseman. He was also a football team captain and a two-year, two-way starter on the defensive and offensive line. He planned to play and football and baseball at Yuba College but died shortly after graduating from Inderkum in a car accident.
Akins' parents Stephanie and Gary Stoll and Jason and Stacy Akins, and other family members, joined his former teammates Tuesday, March 18 for a brief ceremony to honor his life and memory and to retire baseball jersey No. 19. Akins' football jersey No. 75 has also been retired by the school.
Head baseball coach Edward Cervantes said, "Dylan was a … a quiet leader, he led by example, he was always the first one out on the field and ready to go every day."
"Dylan was a coach's dream," Cervantes added. "Every coach wished that they had nine Dylans on the baseball field."
The Tigers 2014 baseball season was also dedicated to Akins' memory and each player will wear Akins' baseball jersey number on their own uniform.
Inderkum varsity lost to the Grant High School Pacers 5-4 on Tuesday. The junior varsity won with a 9-6 final score.
---
The ICE Salon and Spa is scheduled to hold a special event 12 p.m. to 4 p.m. Saturday, March 30 to raise funds for the Dylan Akins Scholarship Fund which was established by Akins' family to help student athletes help pay for colleges expenses. Applications are being accepted for the Dylan Akins Scholarship through March 31. For more information on how to apply, click here.