BY TREVOR HORN
THE NATOMAS BUZZ | @natomasbuzz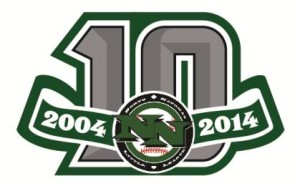 The 10th North Natomas Little League season will kick off with fanfare and festivities Saturday morning at the North Natomas Regional Park.
North Natomas Little League has expanded to one of the largest little leagues in the Sacramento area with nearly 900 players and touts a brand-new, state-of-the-art baseball complex opened earlier this year.
"When we started, we were reaching out to other leagues in our district," North Natomas Little League commissioner Dustin Romero said. "Now we are maxed out at every level."
The first Opening Day pitch is set for 8:30 a.m. Saturday, March 22 with games running until 6:45 p.m. A free, public showing of "Despicable Me 2"  will cap off the day at 7:30 p.m.
North Natomas Little League earlier this year unveiled a new logo for the season which is featured on uniforms and game balls to commemorate the 10th anniversary.
"This is 10 years," said Romero. "This is exciting and we need to commemorate this."
The new baseball complex is divided into three sections. The field facing the west is for Major Baseball teams, the middle field is for all other little league baseball games and facing the Sierras is softball field.
"It's a chance for softball to stand side-by-side with baseball," North Natomas Little League treasurer Tony Perez said. "It's a chance for girls who have never played softball to come out and and experience the sport. It's an amazing time."
Natomas resident Aaron Call's two sons play in the North Natomas Little League. He said he appreciates what Austin, 9, and and Andrew, 5, have learned while playing baseball for the league.
"We couldn't ask for anything else," Call said. "Not just about baseball, but these kids learn life skills out there."
The North Natomas Regional Park baseball complex is located at New Market Drive and Via Ingoglia.
---
Intern Anthony Barnes contributed to this report. To volunteer as an umpire for the North Natomas Little League contact Umpire in Chief Lucas Perretti at [email protected].