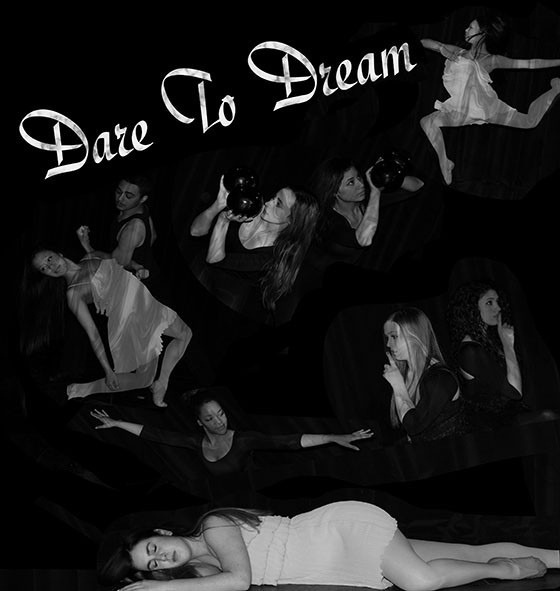 BY TRINA DROTAR
THE NATOMAS BUZZ | @natomasbuzz
Blackrock Dance Troupe's winter production, Dare to Dream, opens at the Benvenuti Performing Arts Center on today, Feb. 7 and closes Saturday, Feb. 8.
Two extended dance pieces, each running approximately 25 minutes, explore the dreams which come during the night – after the sand man has sprinkled his magic dust on sleepers – as well as those dreams which occur in daylight.
Some are dark, as can be seen in the first piece, "All in a Dream," choreographed by Devin LePage.
LePage's choreography makes excellent use of a stage mostly free of props, providing the dancers room to move and jump. The primarily female troupe often uses the entire stage, sometimes venturing off into the space shared by the audience.
After a brief intermission, dancers return to perform "On the Far Side," a lighter and brighter piece choreographed by Anne David and Jill Stripling. The use of stage props works for this extended dance number which opens with what appears to be synchronized swimmers – without the pool.
At times, the scene seems to be a blend of ancient Egypt and ancient Greece. At other times, it has the feeling of Polynesia. The colors shift from the mostly blacks and dull colors in "All in a Dream," to greens and pinks and metallic for "On the Far Side."
Although the two dance numbers are quite different in tone, they work well together and the young performers prove themselves through extended numbers which test their stamina and strength.
Through the juxtaposition of ballet, jazz and hip hop, the choreographers have created a contemporary program weaving stories of dreams about love and money and dreams lost and won, and those to fight for.
Tickets for Dare to Dream are available for pre-purchase online at a reduced rate ($10 – $12) or at the box office on the day of the show ($15 – $17). The two scheduled performances are 7 p.m. on Feb. 7 and Feb. 8.
The Benvenuti Performing Arts Center is located at 4600 Blackrock Drive, Sacramento, CA 95835. For more information, see www.benarts.org.
Choreography: Devin LePage, Anne David and Jill Stripling