BY KALLIE PROVENCHER, INTERN
THE NATOMAS BUZZ | @natomasbuzz
Tammy Roberts cried softly as she spoke about her son's illness. Ethan, now 16, was diagnosed with chronic myeloid leukemia last year.
At his first appointment in February 2013, Ethan was given a packet for the Make-A-Wish Foundation. A few months later, once Ethan was stable and and comfortable at home, the Roberts family contacted the organization with his wish request.
"There was a picture of a girl playing the piano on the brochure. He said that's it, that's what I want," Roberts said. "He didn't have to think about it."
Ethan wanted a used Baby Grand piano, "one that had been cared for and well played."
Roberts said Ethan took piano lessons when he was younger, but didn't really get into playing until he was 11. He would joke about where to keep the piano in their smaller-size house:
"He said he would take his bed out of his room and sleep under the piano," she said.
The Roberts, who live in Roseville, worked with Make-A-Wish's Wishing Place in Natomas to make Ethan's wish of owning his own piano come true.
Natomas is home to one of only four wishing places in the world, drawing people from all over California.
Ethan's wish was No. 5,000 for Make-A-Wish Northeastern California and Northern Nevada. Sacramento Mayor Kevin Johnson presented the Baby Grand piano to Ethan in September during a celebration held at the Hyatt Regency downtown.
Roberts said the piano is a nice way to think about the future and things Ethan can look forward to. And it's given him him more confidence during his treatment.
"It's helped him get through this," she said.
Ethan still gets tired from his cancer treatment and has little appetite, but no longer suffers from constant pain, Roberts said.
"Ethan went from having 100% cancer cells in his bone marrow to now only having 0.25 percent," she said.
Roberts said her son has been smiling a lot more since receiving the piano, and he plays it everyday.
"He plays it even when people are sleeping," she said. "It lifts all our spirits too, everyone can hear it. It just makes us happy."
Michele Flynn, the director of communications for Make-A-Wish Northeastern California and Northern Nevada said wishes give children something to look forward to while undergoing treatment.
The Wishing Place in Natomas grants more than 260 wishes each year. The the average cost of each wish is $5,000.
Flynn said their goal is to grant wishes as quickly as possible, but some can take up to eight months.
"Once they (the children) place their scroll in the wishing well, the 'fairies' go to work in planning the most magical experience possible – and that takes time and coordination," she said. "Sometimes, it can take longer because the family would like to wait for the child to be through with treatment or it could be a more complex wish."
Anticipating a wish helps youngsters' emotional and physical health, Flynn said. Some kids even get more compliant with their treatment, she added.
To be eligible for a wish, children must be under 18-years-old and referred to Make-A-Wish by medical staff, a social worker or parent.
Not all children who receive wishes are diagnosed with terminal diseases and illnesses; some have life-threatening or progressive illnesses. Many of those who have wishes granted stay involved with the foundation afterward, Flynn said.
"They want to give back (because) the wish experience impacts their life now and forever," she said.
The Make-A-Wish Northeastern California and Northern Nevada has been in the Sacramento area for 30 years and serves the Northern California region as well as some parts of Nevada, including Reno. The Wishing Place in Natomas was built in 2009 on donated land.
"We were just fortunate enough to have the resources to (have the Wishing Place)," Flynn said. "It's a shining star in Natomas. It's something the Natomas community can be very proud of."
The Wishing Place is someplace "magical" where children go to make their wish, Flynn said. They meet with a trained volunteer in the wishing room where they are told to "wish big," she said
Flynn started tearing up as she described a terminal 6-year-old who asked for a husky puppy so he would have something to hug after hospital visits, and his little sister could have something to love after he went to heaven.
"They are really trained to get to a heartfelt wish, and they make sure we're offering the child the most magical wish possible," Flynn said.
Make-A-Wish volunteers have the children write down their top three wishes on a magic scroll and place it in the wishing tower.
"It's very ceremonial, a beautiful experience," Flynn said.
Natomas resident Katie Ichiho, now 17, was diagnosed with leukemia in 2012 and was referred to Make-A-Wish by her doctor. She will be traveling with her family to the Bahamas in March thanks to Make-A-Wish.
Katie really likes animals and always wanted to swim with dolphins, mom Jill Ichiho said.
"They haven't given us all the details yet, but we're hoping she gets to swim with dolphins," Ichiho said. "(The trip) symbolizes what she's been through. It's time to just be a family and not think about anything else."
Katie is in remission now, but had a central line in her chest for a year and half in order to receive her chemotherapy, IV fluids, and have her blood drawn. During that time she could not swim or even shower.
Doing things together as a family – like the upcoming trip – is no longer taken for granted, Jill Ichiho said.
"It's a rainbow at the end of a long journey."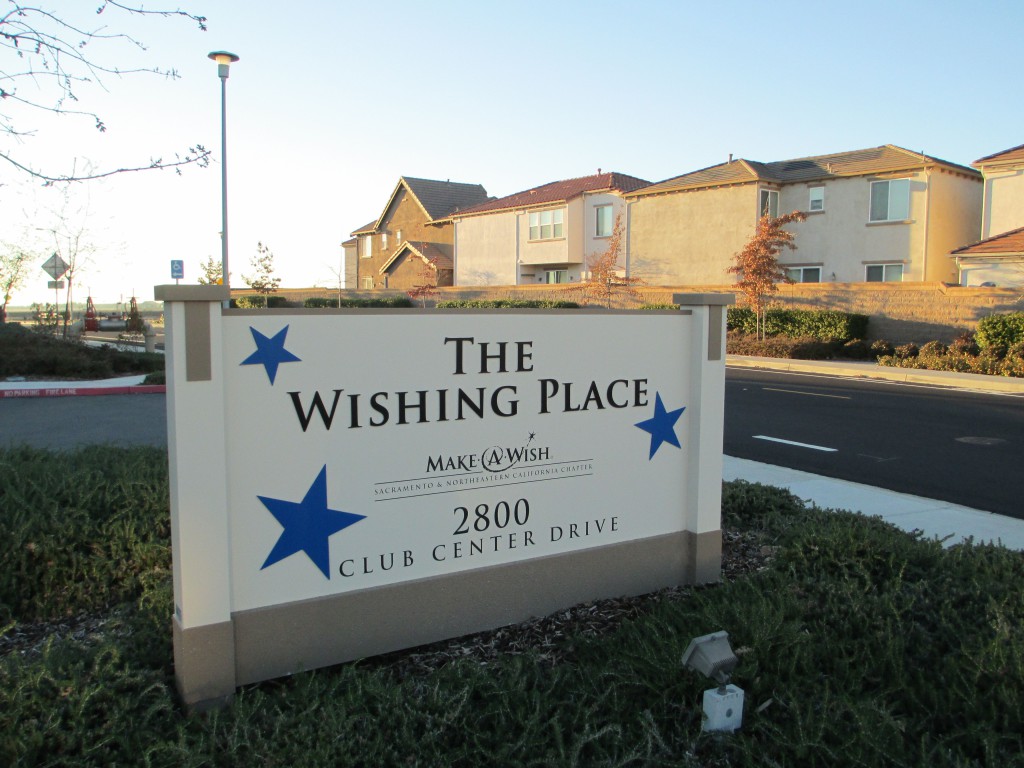 How to Volunteer for Make-A-Wish
Would you like to make a difference in a child's life? The Natomas Make-A-Wish chapter is looking for dedicated volunteers to help make children's dreams come true.
Natomas resident Dina Greenwood said people may sign-up to volunteer just once a year, but warned "once you get started, you want to do more."
Greenwood has been a volunteer wish coordinator at Make-A-Wish for five years. She and her husband decided to volunteer after their daughter worked with the foundation for her senior project at Inderkum High.
Greenwood helps children pick a wish that is the most meaningful to them Make-A-Wish strives to grant the child's top pick.
"We're pretty lucky to have this facility here," said Greenwood.
Volunteers are required to be fingerprinted and attend a month-long training seminar. Those who volunteer to work directly with children must be at least 21-years-old, and additional training classes may be required.
The Natomas Make-A-Wish chapter seeks volunteers to help set-up and work at different fundraising events, such as the annual Winter Wine & Food Fest set for March 1.
For more information about how to volunteer for Make-A-Wish, go to necannv.wish.org.
-KALLIE PROVENCHER
---
The Wishing House in Natomas is located at 2800 Club Center Drive. (916) 437-0206