BY ANTHONY BARNES, INTERN
THE NATOMAS BUZZ | @natomasbuzz
Natomas Walmart shoppers were treated to a seasonal spectacle Tuesday night when Sacramento Kings center Demarcus Cousins dropped by for the "Shop with a Jock" holiday event.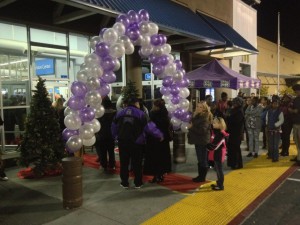 A red carpet and the Inderkum High School marching band greeted 100 underprivileged Sacramento-area children. The youngsters were treated to dinner, games and a $150 shopping spree with Cousins. They also had photos taken with the basketball star.
Store manager Franklin Jackson said he was excited Cousins chose the Natomas Wal-Mart for the event.
"Demarcus asked me to help him find some children that were in need and could really benefit from this," Jackson said.
Wells Fargo provided bikes, purchased at the store, to 50 of the children.
Jackson said he was hopeful about the possibility of future events with the Sacramento Kings.
"This is definitely a relationship that is sustainable," he said. ""We'll continue to work with the Kings, we'll continue to support the community, and I'm glad I could be a resource for the children."