BY BRANDY TUZON BOYD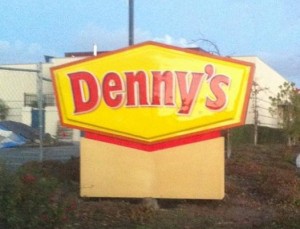 THE NATOMAS BUZZ | @natomasbuzz
Updated 1:20 p.m. on Oct. 24, 2013

The new Denny's in Natomas is expected to finally open late next month.
A new "soft opening" date of Nov. 17 has been set for the restaurant located at 4441 E. Commerce Way.
"We're getting close to completion," said Troy Morgan, vice president of operations for North Valley Diner. "It's going to be the most beautiful Denny's."
The Natomas eatery was originally slated to open months ago, but building permit issues delayed construction work needed to convert the former Straw Hat Pizza into a Denny's. Straw Hat Pizza closed in December 2011.
The 6,375 square-foot restaurant on East Commerce Way and .89 acres on which it sits was listed sold to Akaashaman LLC of Fremont, CA for $663,500 in June 2012. Akaashaman LLC is an affiliate of Denny's franchisee Anil Yadav.
A job fair was held in June to hire workers for the Natomas restaurant which will employ 75 to 80 people, according to franchisee Yadav.
"We're excited to be a part of the community in Natomas," Morgan said.