BY TREVOR HORN
THE NATOMAS BUZZ | @natomasbuzz
The last month has gone by so fast for Richard Faraimo that he can't believe what day it is when he looks at a calendar.
The first-year varsity girls' volleyball coach at Inderkum High School was hired the day before tryouts began in August.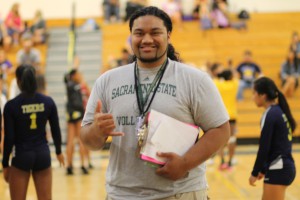 Now, the 23-year old senior at Sacramento State, has a team full of energetic players that are off to a 6-2 start this season after beating Rio Linda 3-0 on Monday.
"It's been so fast. Now going into our sixth game, it's been a lot of work but I am used to it," Faraimo said. "I am used to starting from the bottom. This year has been about the girls coming together and uniting."
After three consecutive winning seasons, including a 21-6 record and a tie for the Tri-County Athletic Conference title in 2011, the Tigers won just three matches all of the 2012 season.
With just one senior on this season's squad, Faraimo was unsure of what to expect from his team. The past two seasons, Faraimo was the boys' volleyball coach at Grant that went a combined 49-6 and 20-0 in the Delta Valley Conference.
"There was pressure, but good pressure. I wasn't nervous, it was just the expectations I put on myself because I know I can give it my all and I think I have proven it," Faraimo said. "I wanted to be successful here. I just didn't know it was going to happen right off the bat."
The Tigers lost to Kennedy High School 3-0 (20-25, 22-25, 22-25). Faraimo said the loss helped the team learn from a close loss.
Faraimo named junior outside hitter Sarah Mills a captain because she showed leadership early on in August.
"I came in on day one and she set up my net – the whole net on her own. She took initiative and just did it," Faraimo said "She is very responsible and very mature for her age. She just takes the leadership role. I didn't ask her to, she just did it. And it just so happen to be that she is one of my starters."
Starting middle blocker Erica King is the lone senior on the team. Along with junior libero Isabella Rua, junior outside hitter Winta Yohanees and junior setter Brittni Lytle, the Tigers are a confident bunch that has sights set on the playoffs.
"We sat down and made goals, and we want to make playoffs. That's our goal," Faraimo said. "We have a young team. It excites me. We have a lot of potential here."
A self-proclaimed "fiery" coach who says he learned to be a coach from Jesuit High School's boys coach, Jason Johnson, Faraimo hopes that his leadership and youthful exuberance will pay dividends for his new program.
"I'm a fiery coach. I'm very, very loud," he said. "But I'm blessed having these girls now. They are all hard workers."
The Tigers play at Highlands High School on today, Sept. 26 before the CIVT Tournament in Carmichael on Saturday.
---
Follow Trevor Horn on Twitter @trevhorn
Photos by Jeremiah McWright, NHS Intern