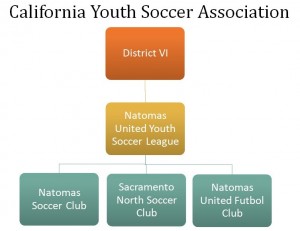 THE NATOMAS BUZZ | @natomasbuzz
The Sacramento North Soccer Club will pursue membership with a different national youth soccer organization.
The decision came Tuesday after a vote to stay with the Natomas United Youth Soccer League failed, 5-7. One board member was absent from the April 30 board of directors meeting and two others left prior to the vote.
The California Youth Soccer Association over the weekend decided not to allow the north Natomas club to affiliate with another member Sacramento-area youth soccer league and recommended it remain with the Natomas United Youth Soccer League for the 2013 season. CYSA is the largest state youth soccer organization in the country and provides a democratic structure to its membership which includes the Natomas United Youth Soccer League and its three member clubs.
Following the failed the vote to stay with the Natomas league, talk turned to leaving CYSA and whether Sacramento North Soccer Club should instead join U.S. Club Soccer or the American Youth Soccer Organization.
During the discussion three board members – U5-U6 age group coordinator Jesus Vargas, coach coordinator Juan Maldonado and communications coordinator Jason Shoultz – resigned from their posts and left the meeting. (A fourth board member, U9-U10 age group coordinator John Aronholt, has since resigned from the board.)
U.S. Club Soccer was described at the meeting as wanting to expand into recreational soccer – which could mean Sacramento North Soccer Club teams only play each other during the 2013 season. The American Youth Soccer Organization was described having active programs in the immediate area, but co-ed teams and a different rule set.
In the end, the board members chose U.S. Club Soccer and to move forward with registration; two board members abstained from the vote.
A spokesman from U.S. Club Soccer said the organization did not "feel comfortable giving out information regarding other clubs (sic) membership" when asked about its recreation soccer programs in the Sacramento area.
In a statement on Facebook, the Sacramento North Soccer Club posted,  "SNSC will continue to offer a top notch soccer experience in our area."
---