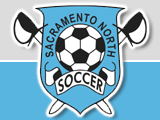 THE NATOMAS BUZZ | @natomasbuzz
The Sacramento North Soccer Club board of directors will hold an emergency meeting tonight to consider severing ties with the newly formed Natomas United Youth Soccer League.
The meeting is scheduled to start 7 p.m. at Roundtable Pizza, located at 3290 Arena Boulevard.
Effective May 4, 2012, Cal North Soccer approved forming the Natomas United Youth Soccer League which includes three soccer clubs – the recreational Sacramento North Soccer and Natomas Soccer clubs as well as the Natomas United Futbol Club for competitive play.
According to the Sacramento North Soccer Club website, the board may leave the Natomas league to become affiliated with the Sacramento Youth Soccer League.
"I am concerned that they haven't reached out to the League," said Sean Slay, president of the Natomas United Youth Soccer League board.
A representative for Sacramento North Soccer Club, which voted to remove its club president Eugene Erlank last month, could not be reached for comment.