BY TREVOR HORN
THE NATOMAS BUZZ | @natomasbuzz
Updated 11 a.m.: Inderkum High baseball TCC opener against Yuba City at home is cancelled today due robrain and wet fields per Inderkum officials.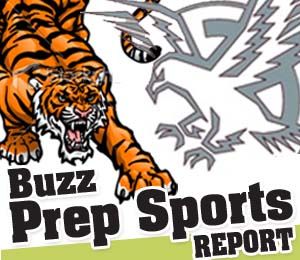 Baseball games today for Inderkum and Natomas High Schools officially kickoff the full schedule of Tri-County Conference games for all spring sports with just over a month left in the season – and that's no April Fool's Day joke.
Baseball: Inderkum baseball beat Vanden High School of Fairfield 5-4 on Friday to improve the Tigers to 9-3. The win total through 12 games already equals the highest win total for the program since 2008.
The Tigers split the four games played in the Woodland Easter Classic this week, losing the first two games before scoring a combined 38 run in wins over Fairfield (21-1) and Vallejo (17-2).
Senior Marc Higgins (1-0) leads the team with 22 strikeouts in 15.1 innings and one complete game. Sophomore Austin Thurman is for second in the Sac-Joaquin Section with four homeruns. He is also fifth in the section in slugging percentage (1.056) and RBI (21).
Inderkum opens up Tri-County Conference games with a three-game series this week against Yuba City High. League opener is Monday at 4:15 p.m. at home, Wednesday in Yuba City and home again Friday.
Natomas High baseball (2-4) won the first two games of the season with a double header sweep against Highlands High with a 6-5 victory and 10-0.
The Nighthawks are on the road Monday at Woodland High to start the TCC season, at home on Wednesday and in Woodland Friday. All games start at 4:15 p.m.
Softball: Natomas High softball (7-10 overall, 0-2 TCC) dropped the first two TCC games last week in a 13-0 loss at Woodland and a 13-2 loss at home versus River Valley High.
The Lady Nighthawks are off this week.
Senior Alexandria Tinoco leads the section with seven homeruns and junior Jervoni Culp leads the TCC in runs scored (24) and strikeouts on the mound (94).
Inderkum softball also lost the first two games of league play. Inderkum lost 5-4 at home to Yuba City and 8-2 at Woodland High.
Senior Cailin Garman leads the league with 17 stolen bases and a .595 on-base percentage.
There are no TCC softball games this week.
Girls Soccer: Inderkum girls soccer is all alone atop the TCC standings with a 2-0-1 league record.
The Lady Tigers (8-4-1, 2-0-1) beat Marysville High 9-0 in a non-league game last week and will have another non-league game at Sheldon High (6-1) on Thursday.
Senior Danielle McCarthy continues her torrid pace this season with TCC bests with 35 points and 17 goals.
Natomas High girls soccer is tied for second in the TCC with 1-0-2 record. The Lady Nighthawks are off until April 8 on the road at Yuba City High.
Sophomore Evelyn Cordero leads Natomas High with 23 points and 10 goals.
Track and Field: Both Inderkum boys and girls track teams defeated Yuba City High in a TCC dual meet last Wednesday.
The boys won by a team score of 74.5 to 64.5. Dejon Joseph won the 800, 1600 and the 3200-meter race while anchoring the top 4×400 relay team for the Tigers.
Senior Kris Sapp won the 100 with a time of 10.74, which head coach Rodney Haymer called "blistering."
Sapp also won the 200, the high jump and anchored the winning 4×100 team. Bryan Payne won the 400.
On the girls side, Whitney Erby won the 100-meter hurdles and the 800 in 2 minutes, 34 seconds. Jonell Offray won the 100 and 200. Winta Yohannes won the high jump with a jump of 4 feet, 2 inches.
Email in scores to Trevor Horn at [email protected] and follow on Twitter @trevhorn.