BY TREVOR HORN
THE NATOMAS BUZZ | @natomasbuzz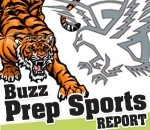 In total, 17 wrestlers from Inderkum and Natomas High schools placed in the top-four at the Tri County Conference league tournament Saturday at Natomas High.
All 17 qualify for the Sac Joaquin Section Division III divisional round next Friday and Saturday at Foothill High School.
Natomas High finished in second place with 196.5 points to first place Woodland High School (218.50). Four Nighthawks came away with league titles Saturday afternoon.
"This was an excellent day," Natomas head coach Don Martinez said. "After taking second-to-last in league duals, we were kind of down. But we took (the team) to the room and pumped them up and we took second. Normally I am not happy with a second place, but I am pretty proud of my kids from where we were just a week ago to taking second."
The four titles for the Nighthawks were the most of any of the six teams in the TCC, including No. 3 state ranked Jordan Sepeda. The senior is now just the third four-time TCC league champion and was named the heavyweight most outstanding wrestler for the third time at the TCC finals.
Inderkum finished in sixth place with 116.50 team points, but came away with two champions and a second place finisher.
"We brought eight wrestlers here and we have six moving on, they did well," Inderkum head coach August Wesley said.
Ruban Escalante of Inderkum took home the 120-pound title with a 13-8 decision over Dominic Calobro of Woodland. This is Escalante's second TCC title.
Jaime Villar, the 138-pound champion from Inderkum, had a two-point takedown in the second period taken off because of a clock malfunction, keeping the score tight with Villar up 4-2 and ended up with a 7-2 decision over Eric Richards of Woodland.
Alex Gonzalez (145) and Rafael Pantoja (160) earned individual titles in their weight classes for Natomas, but the most impressive of the day may have come on the final match of the tournament.
Midway through the second period in the seminfinals, Natomas heavyweight Joey Ames injured his right knee.
Martinez, not knowing what the senior had left in his SUV-sized tank, contemplated pulling Ames out of the semifinals.
"He is pretty amazing," Martinez said. "There was about 30 seconds left in the match and I got up and told him I was going to end the match right there. He got pretty pissed, stood up and put the guy on his back and pinned him."
Ames, almost unable to walk between matches, beat Vincent Alvares of Woodland with an 8-6 decision in the championship match and then hobbled off the mat and onto the podium as a champion.
"He just sucked it up in the finals, it was pretty amazing," Martinez said.
Also placing for Inderkum is sophomore 106-pound wrestler Natalia Villar-Huezo in fifth place. Villar-Huezo also finished third in the section girls masters tournament last weekend and advances to the state tournament on Feb. 22-23 in Lemoore.
"I'm definitely exited," Villar-Huezo said. "I will have to work hard and practice hard."
Full list of locals moving on:
Name/School/Weight Class/TCC Finish
Khaliq Johnson/Natomas/106/4th
Arthur Green/Natomas/113/4th
Ruban Escalante/Inderkum/120/1st
Takhah Fayyaz/Natomas/126/4th
Miles Miller/Inderkum/132/3rd
Vincente Garcia/Natomas/132/3rd
Jamie Villar/Inderkum/138/1st
Alex Gonzalez/Natomas/145/1st
Niko Chapman/Inderkum/145/3rd
Naftali Azavedo/Natomas/152/4th
Rafael Pantoja/Natomas/160/1st
Issac Mendosa/Inderkum/160/3rd
Diego Ramirez/Natomas/170/4th
Roberto Tamayo/Inderkum/182/2nd
Alex Villalobos/Natomas/182/4th
Jordan Sepeda/Natomas/220/1st
Joey Ames/Natomas/285/1st