BY BRANDY TUZON BOYD
THE NATOMAS BUZZ | @natomasbuzz
updated 4:45 p.m. Feb. 16, 2013
Sacramento Police are confiscating about 200 marijuana plants from a north Natomas grow house busted just last year after catching fire.
Early Thursday morning, residents living adjacent to the house on the 5400 block of Boswell Way reported experiencing a power surge which shut off some of their household appliances. That same day Sacramento Municipal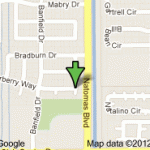 Utility District workers investigated, said they found evidence of a wiring bypass, and shut power off completely to the two-story, single-family residence.
On Friday evening, private security patrol officers from Paladin investigated neighbors' reports of suspicious activity and confirmed what appeared to be several marijuana plants growing inside the residence. Sacramento Police officers were on scene today to investigate and serve a search warrant.
"The safety of the community surrounding this property is paramount," police spokesman Officer Doug Morse said. "First and foremost, today's operation is about making sure the area around the home is safe."
Morse said marijuana plants were found growing in several locations within the house.
In August 2012, Sacramento Fire crews responding to a blaze at the home discovered several marijuana plants growing inside and called police. The plants were seized, but no charges were filed, police said, because the District Attorney's office did not feel there was enough evidence. The fire was reportedly started when electricity circuits were overloaded.
Neighbors said they had grown suspicious of activity at the home when someone reported smelling marijuana burning. The home had been repaired after the fire.