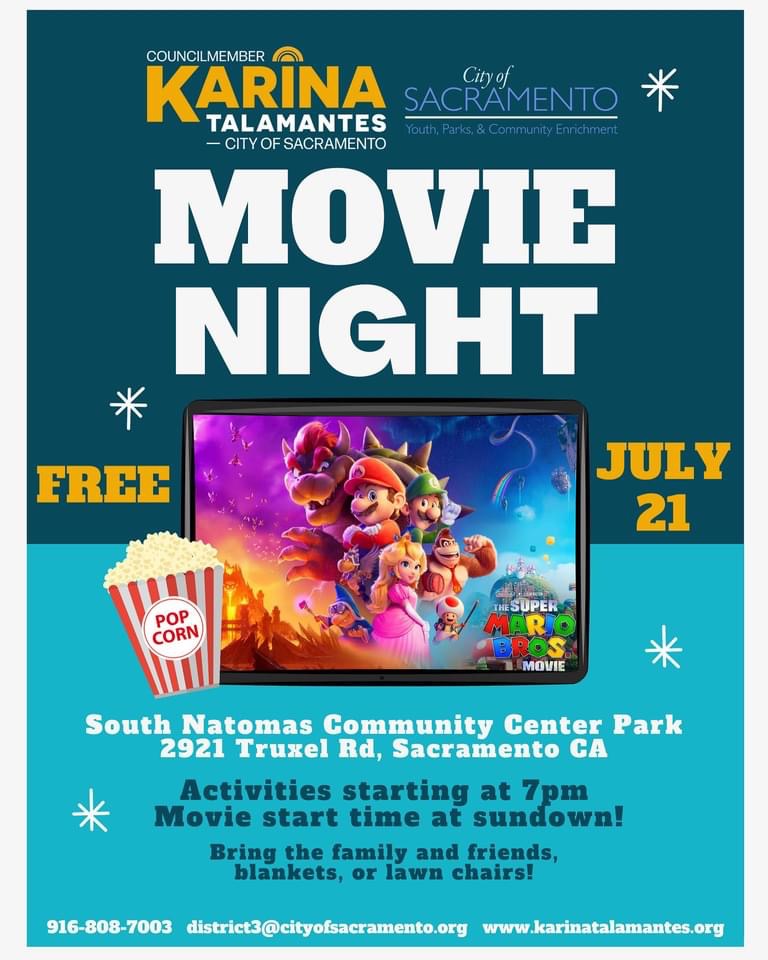 BY ISABELLA BRAVO, STUDENT INTERN
THE NATOMAS BUZZ | @natomasbuzz
City councilmembers Lisa Kaplan and Karina Talamantes are scheduled to host two separate movie night events this Friday, July 21 in Natomas.
Both events are scheduled to start at 7 p.m. with the movies starting at sundown.
Kaplan's movie night will be held at the North Natomas Regional Park, 2501 New Market Drive, and will be showing the movie "Vivo." Talamantes will be showing "The Super Mario Bros." at the South Natomas Community Center park, 2921 Truxel Road.
Both events include free popcorn.
Additional events planned this summer in Natomas include:
Latino & Chicano Celebration from 6-9 p.m .on July 28 at North Natomas Regional Park
Backpack Drive from 1-4 p.m. on Aug. 4 at Northgate Park
Wrestlemania at 4 p.m. on Aug. 5 in the South Natomas Community Center
More Natomas community events can be found on The Natomas Buzz calendar at https://www.natomasbuzz.com/community-calendar/.