BY MARIAH TALSO
FOR THE NATOMAS BUZZ | @natomasbuzz
The detention basin located off of Honor Parkway is one of my favorite hidden gems in north Natomas. The basin is a little hard to find and only visible from a short section of road. The western edge of the basin borders the East Drainage Canal and the eastern hits Honor Parkway —this parkway side is the only portion visible from the street. There is some street parking along here and across the street there is a parking lot for Regency Community Park that you can use, or you can walk/run/jog to it from your own location.
I have provided two routes for this loop. The red loop is almost exactly one mile, and this loop goes above the basin, you can definitely still see the basin, but you are above the basin and on a more level path.
The yellow loop goes down next to the basin and provides easy viewing of the basin and the wildlife residing there. This route is a little trickier as there is an uphill/downhill section and part of the path has ridged cement. This loop is just a touch shorter than the red loop and is approximately 0.80 miles.
Both the red and yellow loop do require you to do a little off-roading in the southwest corner, you have to go out past the pump and around it and then back down to the path. The path has a bit of an end that you must navigate around, but it is easily manageable as long as you watch your step!
With the logistics out of the way, I have to say I was a little hesitant to share this little gem. This basin is so very beautiful and usually teeming with wildlife, part of me wanted to keep this to myself. There are usually very few people here and if you sit and observe for just a few minutes, you are likely to see birds, squirrels, fish, turtles, different plant life, and even beavers! I have visited this wildlife area many, many times over the past decade and virtually every time I have been lucky (or patient) enough to see something exciting.
My favorite time of day to visit is just before dusk. If you go to the north end of the basin, you'll see some new bird houses that have been put up and there are a few benches to sit on along the path. The views with the sunset are quite breathtaking, as the sun is setting is usually prime time for beaver activity.
This time last year when I visited the basin, I saw a family of three beavers come out to swim and explore. It was pretty cute as one came out, swam around and seemed to check to see if it was safe, then after deciding I was not a threat, the beaver disappeared for a few minutes and re-appeared with two more! I watched the three of them swim for around an hour and for the country girl in me it was heartwarming to watch them play and glide across the water.
Most recently, when I visited this past weekend, I saw one beaver. This beaver was very aware of me — it spent a long time watching me before it decided I was a friendly face, and it took off zipping along the basin. I'm not sure if there is only one right now, or if there are more, but I suggest you go take a peek, if you have the desire to see nature in action. As long as you are still, calm, and very patient, you will likely be able to see one of these creatures having a busy evening!
Parking: There is parking both at Regency Community Parking (in a lot) and on the street along Honor Parkway, just check the parking signs on Honor Parkway first.
---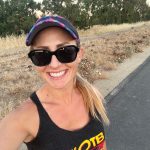 Mariah Talso moved to North Natomas in 2012. She has two young children who enjoy the trails, parks, and playgrounds in the area. In 2018, Mariah decided to run a marathon, took up running and hasn't stopped. She loves running outdoors, traversing the trails and levees throughout Natomas. Click here to read her other columns.