BY BRANDY TUZON BOYD
THE NATOMAS BUZZ | @natomasbuzz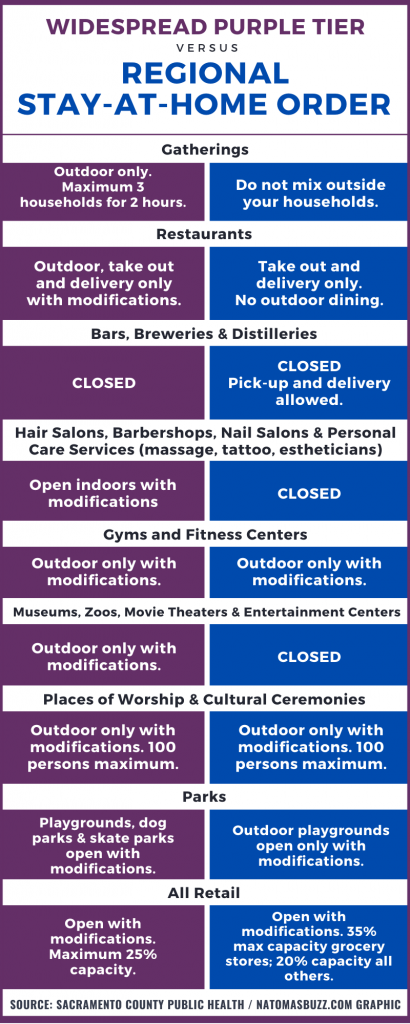 New COVID-19 infections among those who reside in Natomas zip codes were up last week, according to data released today by Sacramento County Public Health officials.
Between Dec. 28, 2020  and Jan. 4, 2021, new COVID-19 cases in Natomas numbered 452  — up about 17% from 384 cases the previous reporting period, the data shows.
According to the data, there were 183 new cases in zip code 95833 last week. In zip code 95835, 144 new cases were reported and zip code 95834 logged 125 new cases.*
Over the weekend, the California Dept. of Public Health announced the Sacramento region will remain under a regional stay-at-home order because the area's four-week projected ICU capacity does not meet the criteria to exit the order. Today, the current available ICU capacity is 12.1%, according to the state.
Prior to being placed on a regional stay-at-home order effective Dec. 10, Sacramento County was assigned to the purple — or widespread — tier based on its test positivity and adjusted case rate.
The Sleep Train Arena alternate care facility in Natomas, being used to treat COVID-19 positive patients with low acuity, had 17 patients as of Monday, California Gov. Gavin Newsom said during his weekly briefing on the state's response to the pandemic.
"The bottom line, because COVID is so prevalent in our communities … it is just more likely you are going to be exposed to somebody who has COVID," state California Health Secretary Dr. Mark Ghaly said during the briefing. "The same activities you did a month ago, today are just so much more risky than they were from a COVID transmission perspective."
---
*Sacramento County does not report the number of cases likely recovered, hospitalizations or deaths by zip code on its epidemiology dashboards.