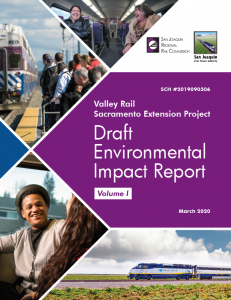 BY BRANDY TUZON BOYD
THE NATOMAS BUZZ | @natomasbuzz
The public comment period for a project that would extend railroad passenger service to Natomas has been extended three weeks, it was announced Tuesday.
The Valley Rail Sacramento Extension Project proposes to expand passenger service from San Jose and the Central Valley to a new station in Natomas by 2023, primarily using existing rails. The Natomas station, proposed east of Black Top Road and south of Elkhorn Boulevard, would include a shuttle connection to and from the Sacramento International Airport.
The Natomas station location and layover track configuration is detailed in the draft environmental impact report released in March.
Due to the COVID-19 pandemic, open house events to share information from the project's draft environmental impact report were held online. About 20 people participated in the virtual open house which took place Monday, May 11.
"It was a good discussion with a variety of questions about train operations, construction schedules, mitigations, funding, etc.," said David Lipari, Marketing Manager for the San Joaquin Joint Powers Authority.
Recordings from the virtual open houses will be uploaded to YouTube and linked to the project website this week, project officials said. Copies of the draft environmental report as well as the slides presented during the virtual open houses are already available on the website.
Continued interest in the project and circumstances related to the COVID-19 pandemic prompted the San Joaquin Regional Rail Commission's decision this week to extend the public comment period for the environmental report. All public comment is now due by 5 p.m. on Friday, June 5, 2020.
"We wanted to make sure that folks had enough time to review the information and get any questions and/or comments submitted – and we know that right now is an incredibly unique time with people out of their normal routines and schedules," Lipari said. "We're trying to recognize these unusual circumstances related to COVID-19, and ensure the best opportunity for public input/public engagement that is possible during this time."
Individuals who have already submitted comments may submit additional comments, Lipari said. As of Wednesday, project officials said that 18 public comments had been received.
---
You may also be interested in:
An overview of Valley Rail is available at https://acerail.com/valley_rail/
Submit public comment via email to

[email protected]

. Include "Valley Rail Sacramento Extension DEIR" in the subject heading for emailed comments.
Submit public comment via snail mail to San Joaquin Regional Rail Commission, Attn: Valley Rail Sacramento Extension DEIR, 949 E. Channel Street, Stockton, CA 95202.