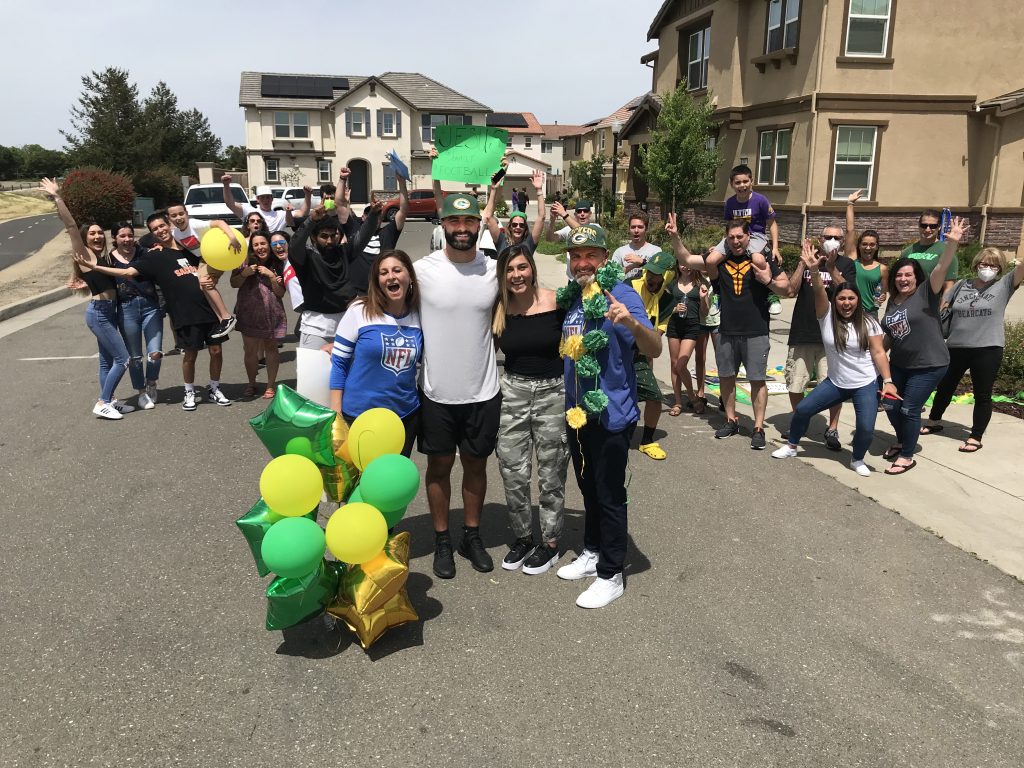 BY TREVOR HORN
FOR THE NATOMAS BUZZ | @natomasbuzz
Josiah Deguara did not grow up in Natomas nor did he attend school here, but the reception he received during the NFL Draft late last month sure made him feel right at home.
Deguara, who was a record-breaking wide receiver/tight end for Folsom High School from 2011-14, is the son of Dean Deguara, the lead pastor at Real Life Church in Natomas.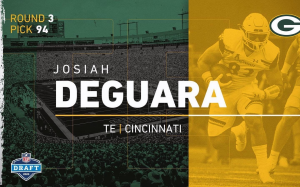 Josiah was drafted in the third round of the draft by the Green Bay Packers with the 94th overall pick on April 25.
Deguara, who was a standout tight end at the University of Cincinnati, was just the third tight end chosen in the draft.
Nothing about the draft was normal.
With the novel coronavirus forcing the nation to shut down non-essential businesses, the NFL commissioner was not on a stage in Las Vegas announcing the picks. Rather, he was in his basement in New York with a large screen TV of fans on live stream as his backdrop.
The Deguara family was at home together in the Natomas for the weekend, eagerly awaiting to see where Josiah ended up as a professional football player.
Stay-at-home orders or not, the family felt the love of Natomas throughout the weekend in the weeks following the draft.
"Our church has come unglued. During this quarantine season, it's been hard to not share it with others," Dean said. "But we had at least a 50-car parade (in our neighborhood) the next day that came by honking horns. It was crazy."
Dean and his wife, Amy, took over Real Life Church in June of 2017 and moved to Natomas a year later.
Josiah was all set to begin training for the draft at various locations in California, but when the nation was shut down because of COVID-19, the Deguara family had to get creative in keeping him competitive and in shape.
Knowing that he still needed to work out to prepare for life as a professional football player, Josiah was left without a gym to work out in and no equipment in his parents' home.
So Dean went to social media to ask for assistance, and the response was quick.
The family was loaned enough weight-lifting equipment so that Josiah was able to do his entire workout from his parents garage.
"We had to make adjustments and I put a (social media) post out that we needed some equipment," Dean said. "It was cool, that a community that we've only been a part of for a short time, to rally around and get Josiah what he needed."
Before the family relocated to Natomas, Josiah was a record-breaking wide receiver at Folsom High. In his three years on varsity in high school, the Bulldogs went 45-2, winning three Sac-Joaquin Section Division I titles and the CIF State D-I title in 2014 during a perfect 16-0 season.
Josiah holds Folsom records for career receptions (240), receiving yards (3,274) and career touchdown catches (42). All of those are also in the top-20 in California state high school history.
Despite the numbers, his offers to major college football programs weren't coming in. Only the Air Force Academy gave him an offer during the season, then Cincinnati came in late with an offer. Josiah jumped at the chance to play for a Division I program.
Undersized as a college tight end at 6-foot-1, 190 pounds, caused some programs to stall on Josiah, but he quickly proved his worth in the weight room.
He added nearly 50 pounds of muscle and became the all-time leader in career receiving yards for a tight end at Cincinnati.
But again, his worth was doubted by media pundits trying to guess where he would land.
"It's fulfilling that (the Packers) believed in me," Josiah said. "Through this entire process I've just worked as hard as I can and didn't listen to what different people were saying about different things. I felt that I did well on controlling what I could control and I was able to do that. It was really cool to see the end result of these long four months come to fruition. Now I'm ready to get to work."
Knowing that Josiah is two time zones away is nothing new for his parents after five years playing in Ohio. A move to Wisconsin won't be much different.
"It's going to be great on the pocket book and great for the family," Dean said. "We will be making a few road trips to Lambeau (Field), too."
Despite having never been to Green Bay, Josiah has felt the love from fans and coaches there. Under normal circumstances, Josiah would have already been introduced at a press conference at the team's facility and likely done several meet-and-greets with fans around the region.
"I've already received a lot of support from the fans out there on social media," Josiah said. "I can already tell how great the fans are and growing up a football fan, playing for the Packers is surreal. I am ecstatic to get out there and experience myself."
Josiah has also spent time online with teammates and coaches during virtual meetings since being drafted.
"We had our virtual mini rookie camp (last weekend)," Josiah said. "We met with special teams, the head coach for a little bit and really just an introduction. Meeting a lot with the tight ends coach. I am just trying to get all of the mental aspects of it all right now."
And the extra time the family has been able to spend over the last two months is a blessing, Dean said. Along with Josiah home, so is their 20-year old daughter, Mariah, who recently graduated from Grand Canyon University after finishing up her senior year online at home in Natomas.
"It's been a blessing in disguise because we probably would have only seen Josiah for a few days and he would be in Green Bay right now," Dean said. "Both him and his sister have been home for the last eight weeks. To experience the whole process and make the adjustments we need to make, we have enjoyed the whole process as a family. It's actually been very memorable. We will look back fondly on this time."