BY BRANDY TUZON BOYD
THE NATOMAS BUZZ | @natomasbuzz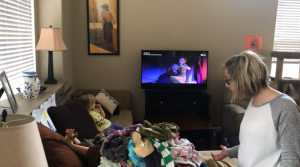 Natomas residents Chelsea Hart-Connor and Max Connor are using creativity and humor to help cope with the current stay-at-home order.
"My wife and I decided to add to the COVID-19 parody song canon with a rendition of 'Into the Unknown' from Frozen II," Max wrote on YouTube.
The couple's music video "Stuck Inside My Home" has been viewed more than 1,500 times since it was posted a week ago.
The video features vocals by Chelsea and camera work and editing by Max . The pair co-wrote the lyrics and their three children also have small roles in the video.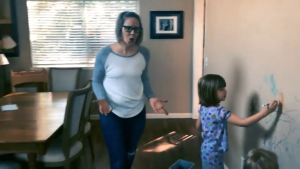 "It's definitely been an adjustment to be a teacher, a student, a parent, and an employee all in the same moment, unexpectedly," said Hart-Connor, who works for the Department of Public Health.
Max is a full-time journalism student at Sacramento State. While Chelsea telecommutes, Max is attending Zoom classes and school meetings full-time. (He had been a server at Midtown restaurant, but lost his job with the stay-at-home order.)
"The bright side of being at home is that we are getting some really quality family time that we usually don't get because pre-quarantine, my husband and I basically split time watching the kids and working and rarely saw each other," said Hart-Connor.
The couple's 5-year-old is a transitional kindergarten student at Heron School and their twins — almost 3-years-old — were at the ASI Children's Center prior to the countywide shelter-in-place order which went into effect March 19. Their oldest is now doing some Zoom sessions and learning from home.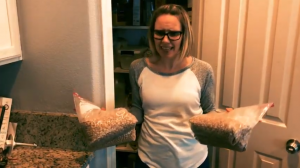 "We have started to figure out how to have a schedule each day for the kids so they continue to learn and have some structure and aren't just running around like maniacs," Hart-Connor said.
There are challenges, however.
The Connors miss family and friends and have financial concerns about the future.
"We recognize that we are more fortunate than so many others in this situation and so we try to keep that in mind and have as much fun as we can which is what that video was all about," said Hart-Connor.
The Connors said they have frequently made up silly songs and alternative lyrics to songs on the fly.
"The 'Into the Unknown' song has been a song that we routinely alter on a day-to-day basis," Hart-Connor said. "Once we became quarantined, the 'Stuck Inside My Home' lyrics would naturally come to us."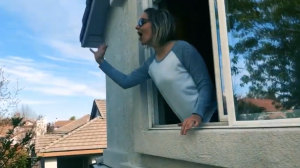 The couple said they tried to capture how they were handling being quarantined, but also the funny things people do, like buying all of the yeast or dry beans.
"We laughed a lot while writing the lyrics," said Hart-Connor.
Since the pair didn't have time to work on their project during the day, they would stay up late after the kids were in bed asleep to write the lyrics and later, record Chelsea singing the song. They filmed the video during the weekend while their children watched Frozen II.
"We have never done anything like this before, so it was all very new to us," said Hart-Connor. "It really brought a lot of fun and laughter in our home during a very stressful and uncertain time."
"Creativity and silliness has been our antidote during quarantine. It's been fun to bring smiles to others."