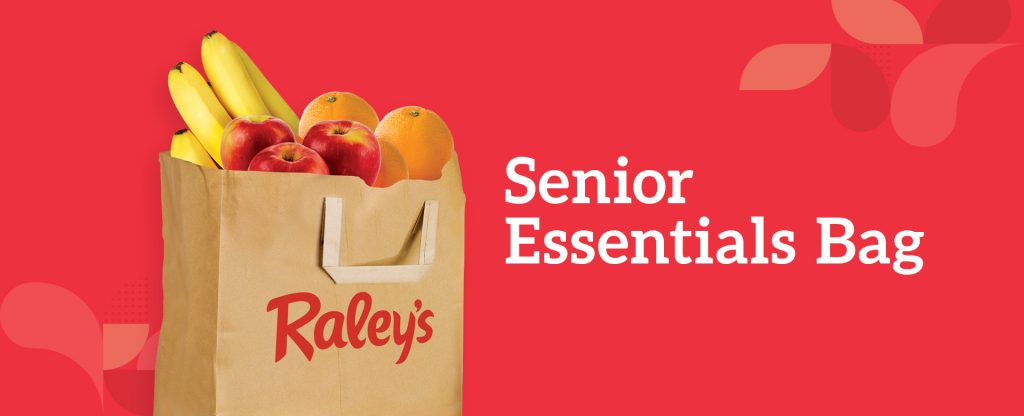 BY BRANDY TUZON BOYD
THE NATOMAS BUZZ | @natomasbuzz
Updated 8 a.m. March 19, 2020
Raley's has announced plans to offer "Senior Essentials Bags" in response to the COVID-19 crisis.
"Starting Saturday, we will have two unique Senior Essentials Bags available for purchase at a discounted price," reads the announcement on Raley's website. "These bags can be picked up daily curbside or in-store. We will make every effort to meet demand."
The bags will be intended for seniors and at-risk customers in self-isolation or quarantine. Grocery stores in other areas have offered designated shopping times for seniors, in an effort to reduce their risk of exposure to the novel coronavirus.
"As of March 15, the Governor of California has recommended that all seniors self-isolate," Raley's spokesperson Chelsea Minor said. "In return, we are recommending that seniors use our online service for pick-up or delivery or take advantage of our Senior Essentials Bag, which will be available soon."
Based on the California Department of Public Health's recommendations, Minor said Raley's will not be holding a dedicated senior shopping hour because it is suggested that seniors self-isolate.
"We recommend that seniors order online using eCart to have their items delivered or brought out to their car or take advantage of our Senior Essentials Bag," Minor added. "We encourage neighbors or friends to pick up for seniors as well, where possible."
Once the Senior Essentials Bags program is available, store team members will build as many bags as they can each night and put them in the front of Raley's and Bel Air stores by 7 a.m. each morning.
The bags will be available for customers to pick up — one per family, per day — while supplies last.
"Please be sure to only take advantage of this service based on need so we can help our customers who need it most," reads the Raley's website.
The $20 bags will include a mix of fresh items and pantry staples. Contents of the bags may vary day-to-day depending on inventory and product availability, but may include:
Raley's Instant Oatmeal, 11.8-15.1 oz. box
Raley's Condensed Soup, 10.5 oz. can
Raley's Chunk Light Tuna, in Water, 5 oz. can
Raley's Peanut Butter, 16 oz. jar
Raley's Pinto, Kidney or Garbanzo Bean, 15.5 oz. can
Raley's Diced or Stewed Tomatoes, 14.5 oz. can
Raley's Canned Fruit, 15-15.25 oz. can
Raley's Instant Mashed Potatoes, 14 oz. box
Raley's Mac & Cheese
Raley's Pasta, 12-16 oz.
Raley's Pasta Sauce, 23-24 oz.
Bananas, 1 bunch, (5-6 bananas roughly 2 lbs.)
(3) Large Navel Oranges, per lb. (roughly 2 lbs.)
(3) Fuji Apples, per lb. (roughly 2 lbs.)
(3) Bulk Russet Potatoes, per lb. (roughly 2 lbs.)
Raley's Mild, Hot or Breakfast Sausage Roll, 16 oz.
A $35  bag will contain freshly cooked, heat-and-eat entrées and salads. The product mix will depend upon availability.
No substitutions will be allowed and allergy-specific, diet-specific or lifestyle-specific bags will not be available so that stores can provide bags to as many customers as quickly as possible.
Customers who are unable to get out of their vehicles may pick up Senior Essentials Bags at stores that offer eCart pickup, if bags are available.
Raley's Supermarkets is a privately held, family-owned supermarket chain that operates stores under the Raley's, Bel Air Markets, Nob Hill Foods, Food Source and Market 5-ONE-5 banners in northern California and Nevada.
---
For more information about Senior Essentials Bags, visit https://www.raleys.com/senior-essentials-bag/ .