BY BRANDY TUZON BOYD
THE NATOMAS BUZZ | @natomasbuzz
Updated March 24, 2020
Natomas-area businesses are shifting the way they do business, and some are even closing, in response to the COVID-19 crisis.
"As directives keep changing, we are going to keep reacting and adapting to what's recommended," said Genevieve Hsu, who owns and operates both Coldstone Creamery and Monsoon Burger in Natomas with her husband, Jim Hsu. "We are taking it day by day."
The most recent guidance from state officials meant to limit the spread of COVID-19 calls for the closure of bars, pubs and dine-in restaurants.  Restaurants may stay open for take out, curbside and delivery. Gyms and other business are also closed, and everyone — especially those who are age 65+ or who are medically fragile — is being asked to only leave home when necessary.
In the past week, the Hsu's have made several changes in an effort to protect their employees' and customers' health, including additional cleaning and sanitizing procedures.
Effective Tuesday, lobby seating was closed and Coldstone was only serving to-go orders. Hsu said the neighborhood creamery has already partnered with DoorDash and is in talks with other companies to provide customers with more order and delivery options.
"It's a hard position to be in as a small business owner," Hsu said. "There are a lot of emotions about the situation and we are doing the best we can do to take care of everyone."
Hsu said the self-serve topping bar had been removed at Monsoon Burger. Condiments and items such as sliced lettuce, tomato and onion are still available, but upon request. Self-serve silverware has also been removed from the the lobby.
"Now we give (customers) directly everything from us, with a gloved hand," Hsu said.
While some people still choose to dine-in, Hsu said the eatery saw a spike in take-out orders on Tuesday.
Josh Cox, who owns and operates Comic Command Center, said Tuesday marked the first big change for his small business in Natomas.
In addition to selling comics, games and memorabilia, Cox's store also hosts game play and tournaments.
"Today, we got the email from Konami that all organized plays have been canceled for the time being," said Cox. Konami oversees the Yu-Gi-Oh! Trading card game tournaments.
Foot traffic at the store had not been impacted by novel coronavirus concerns in the past couple of weeks, but Cox said he expected fewer customers with the cancellation of tournaments.
"I'm going to be … sure stay open as long as possible to make sure I can pay my bills, pay my rent," he said.
Late Tuesday afternoon, it was announced that Elements Health Club (also known as Fit Republic) would close temporarily effective March 18. That decision came just two hours after management for the West Coast-based chain of fitness clubs announced it closed all its gyms in Oregon and Washington, but was keeping the ones in Natomas and Lake Tahoe open.
Several other gyms, such as California Family Fitness and Kaia FIT, had already closed in Natomas.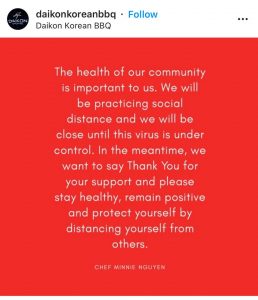 Other examples of changes seen at Natomas-area businesses include, but are not limited to:
On The Border closed.
Mongolian BBQ closed.
Natomas Yoga is streaming classes.
Oshima Sushi is closed until April 3.
The Hub is closed.
Bella Bru in Natomas is temporarily closed.
Tokyo Steakhouse closed until April 1.
Arena Eye Care Optometry is open 10 a.m. to 1 p.m. Monday to Friday and 5 p.m. to 6 p.m. Tuesday and Thursday for contact lens orders and emergency eye care. Emergencies should call in first and speak with the doctor. The best way to reach the office outside of open hours is via "contact us" messaging on website www.arenaeyecare.com
Banfield Pet Hospital on Truxe Road, Natomas Veterinary Hospital on Gateway Park Boulevard and VCA Animal Medical Center on Del Paso Road are open by appointment and will pick up animals at the curb.
Firehouse Subs in Natomas is open 10:30 a.m. to 7 p.m. for takeout/online orders.
Pizza Press is offering take out and delivery only effective March 20.
Vampire Penguin is open for take out only.
The Sacramento International Airport has closed the East Economy Lot is closed effective March 19. The Daily Lot parking rate has been lowered to $10 per day. SMF is encouraging travelers to avoid all non-essential travel.Quickly Natomas is temporarily closed.
Smog Diagnostics Specialists remains open with precautionary measures in place.
Dos Coyotes is taking to-go and online orders.
Koshii is offering $5 off all new online orders.
Olympus Sports Coliseum closed indefinitely effective March 17.
Kohl's is close through at least April 1.
Sacramento 49er Travel Plaza truck stop is offering to-go orders only.
Marshall's is closed.
HomeGoods, which opened to shoppers less than a month ago, has closed.
Chaat Kafé is offering free delivery for orders over $30 within five miles of the restaurant.
All Chase Bank locations in Natomas have reduced their open hours.
Safeway in Natomas is reserving 6 a.m., when the store opens, to 9 a.m. on Tuesday and Thursday for those in at-risk groups, such as seniors and medically fragile, to shop.
Regal Theater in Natomas closed effective Tuesday, March 17.
Chicago's Pizza is in Natomas is waiving delivery fees.
Tapioca Express in Natomas reports 95% of its business is now to-go and phone orders.
The Original Mel's diner in Natomas is only open for deliveries (Doordash, Unereats and Postmates) and to-go orders place by phone.
The new Daikon Korean BBQ restaurant has closed until further notice, it was announced Tuesday on social media. The all-you-can-eat eatery opened on Feb. 3.
Barnes & Noble in Natomas is closed. has canceled all its events and reduced the hours it is open to the public. The bookstore cafe has removed all indoor and out seating and is only open for to-go orders it was announced Wednesday on social media. The store is also offering free curbside pickup for online order.
Raley's and Bel Air stores no longer offer self-serve items in the stores, including the hot bar, salad bar and self-serve bakery items. These items are still available for purchase, but customers must request them at the deli or bakery counters. The stores also plan to seniors a prepacked bag of groceries for $20 while supplies last. "We are in contact with our suppliers and turning product as fast as we can to get it into stores," company spokesperson Chelsea Minor said. "We have hundreds of truck loads deploying daily and are restocking as fast as we can!"
Lush Dental Studio announced it would limit office visits to emergency patients only via social media. "This was a difficult decision, but we believe it is the right one."
Amazing Lash Studio announced Tuesday it will close for at least 14 days.
Target Natomas closed its fast-food cafe indefinitely on Monday and those workers are now helping sanitize the store. The store will reserve the first hour of every Wednesday, beginning today March 18, for seniors and vulnerable group to shop. Limits on some items are being enforced.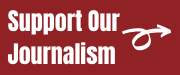 City of Sacramento Small Business Emergency Relief Fund
Sacramento's Office of Innovation and Economic Development is releasing the Small Business Emergency Relief Fund to help offset the impact of COVID-19 on Sacramento small businesses and their employees. The $1 million economic relief fund is for businesses experiencing hardships due to COVID-19. The fund will provide 0% interest loans up to $25,000 per business. Applications will be available online by March 18, 2020 at 5 p.m. For more information about COVID-19 resources, visit: www.cityofsacramento.org.