BY BRANDY TUZON BOYD
THE NATOMAS BUZZ | @natomasbuzz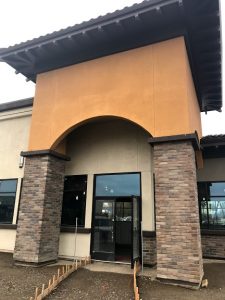 Construction of the new Nation's Giant Hamburgers is nearing completion in Natomas.
The sit-down eatery will anchor the three-acre lot located on the corner of Truxel Road and Gateway Park Boulevard.
Nation's is expected to open in late March, early April. The family-owned and operated regional brand is known for its cook-to-order breakfast, giant hamburgers and fresh pies.
"We want to be further along on parcel two before opening the restaurant," said Patrick Marasco, Vice President Business Development for Nation's, El Cerrito-based fast food diner chain.
The site plan, said Marasco, is made up of four parcels.
The location was originally slated for a TGI Fridays and Sonic, but work on that project stalled in 2008 when Roseville-based Kobra Properties ran into money troubles; company later declared bankruptcy and the property went into foreclosure. Partially constructed buildings on the site were razed in 2011 and the site has sat empty until Nation's acquired it.
"Our goal from the start was to go with the grain," Marasco said. "We tried to respect the existing application and site plan and at the same time bring a project that is viable and would meet our needs."
The first parcel is situated closest to the site's entrance, off Gateway Park Boulevard, and includes a drive-thru element, Marasco said. Nation's is in talks with several coffee vendors, both local and national chains, and hopes to "land on a deal" soon for the 2,200-square-foot site, he said.
Preliminary work has already started on parcel two, the largest of the four at 6,750 square-feet. The fourth and final 1,800-square-foot parcel on the site will remain in a holding pattern until parking impact and traffic flows are better understood, Marasco said.
Nation's has operated in the greater Bay Area since 1952 and has grown to 29 locations, including one restaurant in Citrus Heights.
Said Marasco of opening the newest diner in Natomas, "We just really loved this location."