BY JAKOB FRANCO
THE NATOMAS BUZZ | @natomasbuzz
Five candidates vie for two seats on the Natomas Unified School District board of trustees this November.
The ballot includes familiar names as well as some fresh faces looking to make a change.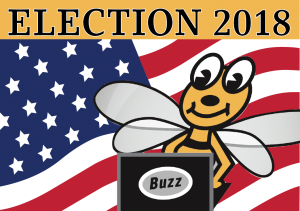 Incumbents Teri Burns and Lisa Kaplan hope to secure another four years after winning each election cycle since 2002. The pair face opposition from returning challenger Jag Bains and political newcomers candidates Cynthia Connell and Gabriell Garcia.
Kaplan works as an education attorney specializing in school construction. She points to construction of Star Academy and Westlake Charter campuses and buildings at Heron, Natomas Park, Natomas Pacific Pathways Prep, and Bannon Creek schools as key successes during her past four years in office.
Kaplan cites "…maintaining the positive and collaborative path Natomas Unified is on to maintain our fiscal stewardship and focus our limited resources on student achievement" as her focus while working on the school board. She is the parent of a kindergartener at Paso Verde School.
Burns works as the director of policy and legislation for the California school board and has served on the Natomas school board since 1985.
As board member, Burns said she works to, "Expand the social/emotional supports for students" and points to these supports as the reason for an increase in the Natomas test scores and graduation rate.
Bains seeks once again to challenge the two incumbents after losing his bid in the 2014 race. He works as a civil engineer and construction manager and is the parent of a student at Natomas Charter School's Star Academy.
Bains said he hopes to promote equity across the Natomas school district by directing more funds to classrooms and providing "more support for low-income students."
Currently, Bains serves as a Sacramento Parks and Recreation commissioner.
Newcomer Connell is a retired teacher who worked for more than a decade in the Natomas Unified School District teaching at Leroy Greene Middle and Inderkum High schools.
Connell said she finds the current turnover rate of Natomas teachers, "Unacceptable, and easily remedied."
While never having held office before, Connell served on the Natomas School District Advisory Budget and Local Control and Advisory Plan committees and Natomas School Foundation. Her nephews attended Natomas public schools.
Garcia ran for public office earlier this year against city councilmember Angelique Ashby. She is the owner of a live music venue in Sacramento.
If elected in November, Garcia said she hopes to build a district "That would attract the best teachers and administrators.". She has two children attending Natomas Charter.
Garcia has coached soccer in Natomas for more than 10 years and participated in the Witter Ranch PTA.
Each voter who resides within the Natomas Unified School District's boundaries may cast two votes for school board on Election Day.
The deadline to register to vote in California is Oct. 22. Register online at https://registertovote.ca.gov/