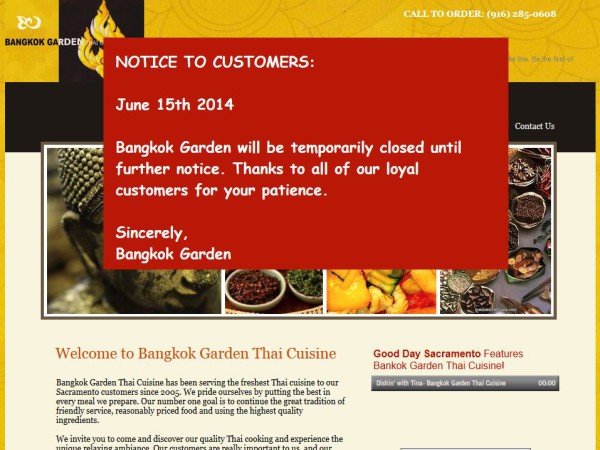 THE NATOMAS BUZZ | @natomasbuzz
Publisher's note: According to a note posted on Facebook, the owners of Bangkok Garden indicate there are plans to reopen.
A popular Thai restaurant in Natomas has abruptly closed to the disappointment of loyal customers.
According to legal documents posted by the Sacramento County Sheriff's Department, Bangkok Garden has been evicted from its 3230 Arena Boulevard Suite 215 location effective June 15.
A message posted on the eatery's website dated June 15 reads Bangkok Garden "will be closed temporarily until further notice."
While the message posted indicates the closure is temporary, a peek at the restaurant's interior shows it has been cleared out.
"I really hope they are not closing down," diner Kristy Gutierrez posted on THE NATOMAS BUZZ's Facebook page. "It's the best Thai food in Natomas."