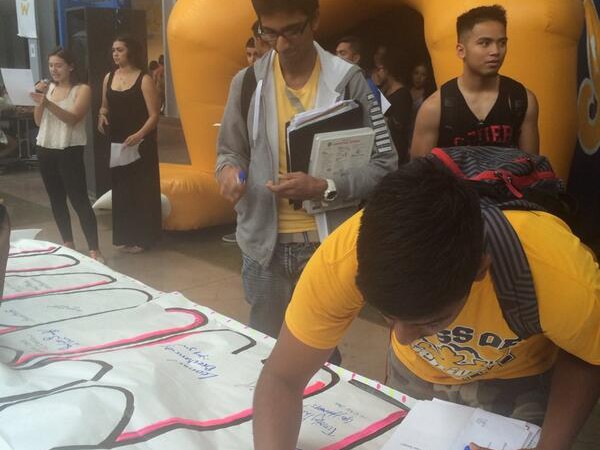 BY VALENTINA CARRILLO, IHS INTERN
THE NATOMAS BUZZ | @natomasbuzz
Inderkum High School seniors were recently recognized as part of a new school tradition – a college signing day ceremony.
The ceremony, held May 2, recognized about 120 graduating seniors who were accepted into four-year colleges or universities. (There are about 344 seniors at Inderkum.)
The event was hosted by Inderkum's National Honor Society and was held during both lunch periods so that both under- and upper-classmen alike could cheer for their peers.
Seniors walked through the famous Tony the Tiger tunnel onto a stage in the lunchroom as their names were announced along with those of the four-year universities and colleges where they were accepted. Then, the college-bound students signed a banner with their names and that of the school they plan to attend in fall.
The signing day ceremony is meant to mark the May 1 deadline for high school seniors to notify the college or university they plan to attend. Inderkum school officials plan for the event to become an annual tradition for each graduating class to celebrate their college admission offers.
A photo collage of graduating college-bound seniors is in the works. It will be displayed in the Inderkum office for the next 2014-2015 school year as inspiration to incoming senior class.