THE NATOMAS BUZZ | @natomasbuzz
Updated June 1, 2014
The Natomas Unified School District will kick off its free summer meal program with a special event next week at American Lakes Elementary School.
A free barbecue lunch for children 18 years and younger will be served at the event which is scheduled for 10:30 a.m. to 12:30 p.m. on Friday, June 6. A farmers' market will distribute free fresh fruits and vegetables and there will be face painting and music as well. Adults may purchase lunch for $3.50 per person.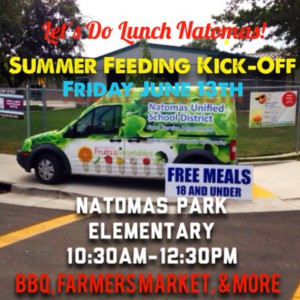 Plans are also under way for a second summer meal kickoff event at Natomas Park Elementary, scheduled for June 13.
The U.S. Department of Agriculture established the Summer Food Service Program to ensure that low-income children continue to receive nutritious meals when school is not in session. Free meals, that meet federal nutrition guidelines, are provided to all children 18 years old and under at approved sites in areas with significant concentrations of low-income children.
In Natomas, free meals will be served 11:30 a.m. to 12 p.m. on week days June 2 through August 8 at American Lakes, Bannon Creek, Jefferson and Natomas Park elementary schools as well as Leroy Greene Academy, Natomas Middle, Inderkum and Natomas High. The meals are free to children ages 18 and under – no paperwork required. Lunch will not be served on July 4.
American Lakes Elementary is located at 2800 Stonecreek Drive.
---
For more information, contact the Natomas Unified food service division at (916) 567-5472.