BY CHRIS SHANNON
THE NATOMAS BUZZ | @natomasbuzz
If your kids enjoy basketball and are looking for something to do on Friday nights, then they may want to check out the Hot Spot program in Natomas.
Sponsored by Councilmembers Angelique Ashby and Steve Cohn, the Hot Spot program takes place at Rio Tierra Jr. High on Friday nights from 7:00 p.m. to 11:00 p.m.
The free program is open to all youth, boys and girls, ages 13 to 19. It includes basketball and snacks.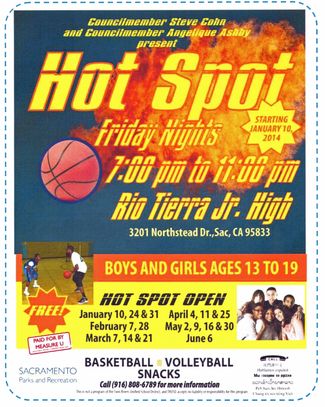 The program has attracted up to 60 youth in the greater Natomas and North Sacramento region with regulars from Natomas High School, Inderkum High School, Natomas Middle School, Natomas Middle School, Rio Tierra Jr. High and Grant High School.
Hot Spot is operated by the City of Sacramento Department of Parks and Recreation. The program at Rio Tierra Jr. High is one of five operating throughout the city.
Reference the Hot Spot pamphlet for dates as the program is not open every Friday night. The program will be closed today, March 28 but will return next week April 4.
All Hot Spot programs are free thanks to Measure U. Call 916-808-6789 for more information.
---
Note: The Hot Spot program is not a program of the Twin Rivers Unified School District, and TRUSD accepts no liability or responsibility for the program.