BY TONY PEREZ
THE NATOMAS BUZZ | @natomasbuzz
This restaurant is now closed.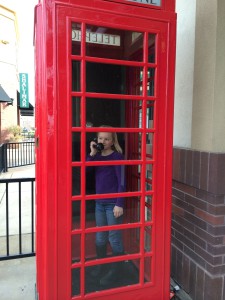 From the moment you walk up to 007 Fish & Chips and see the quintessential red telephone booth, you know a piece of England has been transplanted to Natomas.
Fortunately for diners, the decor is only the beginning.
The food at 007 Fish & Chips is spot on. Perfectly cooked fish nestled on top of a giant pile of chips – french fries to us colonists – and a wide array of other English classics make up the simple, but evolving menu which includes bangers and mash, beans on toast and shepherd's pie . Soy bean oil is used to cook the fish and chips, resulting in robust flavor and 30% less fat than traditionally cooked counterparts.
A splendid assortment of beers from the UK pair perfectly with the pub grub. A nice selection of classic British candy bars and other snacks round out the items available at this new eatery. 007 Fish & Chips serves local favorite, Gunther's Ice Cream, if you still have room leftover for dessert.
Perhaps best of all is the charm of the dining space and family members who work behind the counter.
From the obvious images of James Bond through the years to the fun London Underground transit maps, the restaurant is unabashedly proud of its English heritage. This national pride is evident when you interact with owner Ian and his nephew, and when you eat the food they are serving.
Their motto: "Bringing British Fish & Chips down to Earth and having a bloody good time doing it."
---
007 Fish & Chips is open 11 a.m. to 3 p.m. and 5 p.m. to 8 p.m. Monday thru Thursday, 11 a.m. to 3 p.m. and 5 p.m. to 9 p.m. on Friday, 12 p.m. to 3 p.m. and 6 p.m. to 9 p.m. on Saturday, and 12 p.m. to 3 p.m. and 6 p.m. to 8 p.m. on Sunday. The restaurant is located in the Sacramento Gateway at 3620 North Freeway Boulevard, in Suite 310.