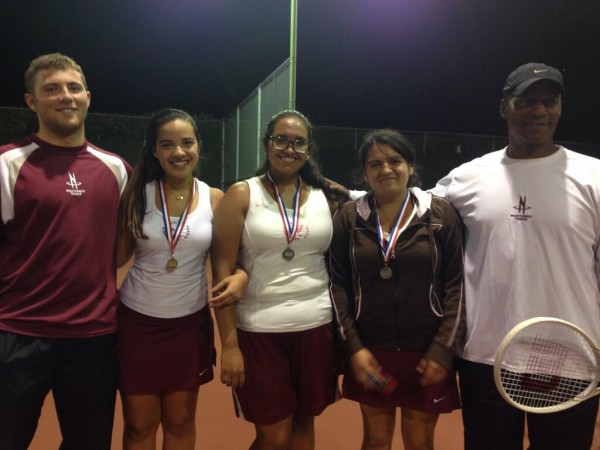 BY TREVOR HORN
THE NATOMAS BUZZ | @natomasbuzz
Publisher's Note: On Tuesday, Oct. 22 the Lady Nighthawks took home three out of six medals during the singles competition. Brianna Curiel placed 2nd in her bracket, Julia Fagundes placed 1st in her bracket, and Isis Cuevas placed 2nd in her bracket. There are three different brackets.
The Natomas girls' tennis team does not have players who compete in the sport year-round and for some of the Lady Nighthawks, their first experience with the sport is when they meet coach Rick Ratliff.
"When they come to play tennis at Natomas (High), they have no idea what tennis is," Ratliff said. "Most of the time I have to give them a racquet."
That may come as a surprise to some after Natomas High School girl's tennis team won the Tri-County Conference league title after beating Inderkum High 5-4 last week.
"It means a lot because most of the other players on other teams have trainers and they have a lot more practices," Natomas High senior Marissa Rosales said. "They are always constantly training. So the fact that we can still beat them, it means a lot to me."
Rosales, a standout softball player, never played tennis before her sophomore year when Ratliff said he convinced her to play. Now, two years later, Rosales is the No. 1 singles player for Natomas High and team co-captain with Tejaswi Adhikari.
"Marissa is just a natural born competitor," Ratliff said. "I got her playing her sophomore year and she loved it."
Playing the top slot can be daunting. That player goes up against the top competitor each team has, but Rosales finished with a 4-6 record in TCC matches.
Senior Tejaswi Adhikari and her twin sister Ojaswi Adhikari have played varsity tennis since their freshman year – the first players at Natomas High to play varsity their entire high school career, according to Ratliff.
"I've had them for four years," he said. "They are a blast."
As the No. 2 singles for Natomas High, Tejaswi Adhikari finished with a 6-4 record and beat Mauriana Stallworth of Inderkum 4-6, 6-1, 10-7 last week to help the Nighthawks secure sole possession of the league title. Ojaswi Adhikari finished with a 7-3 record.
Their relationship as sisters and teammates has been good for the twins.
"It's been a great experience because we've grown a lot closer because we both love tennis and having her as my teammate really makes me want to try harder," Ojaswi Adhikari said.
Ratliff said he put together a tough preseason schedule to help prepare the team's inexperienced players prepare for competition. Natomas High finished second at the Best of Sacramento tournament to Bella Vista High School and won the 2013 Division 8 California Girls Tennis Classic Championships in Fresno.
A surprise this season for Ratliff came out of left field – or Brazil – with the addition of foreign exchange student Julia Fagundes.
Fagundes, a junior, tried out for the team in August and was picked to play varsity.
As the No. 5 singles player, Fagundes finished the league schedule with a perfect 10-0 record. Ratliff said she is the first foreign exchange student he has ever coached.
"I hit the jackpot," Ratliff said. "She came late. She didn't show up until school started. I saw her play and knew she could jump right into singles."
Brianna Curiel finished league play with a 7-3 record as the No. 3 singles and at No. 6 Isis Cuevas finished with an 8-2 record.
Ratliff wasn't confident his team could win the league title until midway through the schedule.
"I generally go through the season the first go-round and assess what it looks like," he said. "So once I saw how we played everyone, I thought, 'Yeah, we should win.'"
Singles players are competing in a league tournament today, Oct. 22 at the Rancho Cortez Swim & Racquet Club in Yuba City; doubles face off on the court when the tournament continues on Thursday, Oct.24.