BY SUKHMAN REKHI, NP3 INTERN
THE NATOMAS BUZZ | @natomasbuzz
More than 150 people attended a candlelight vigil at Natomas Pacific Pathways Prep High School Monday in memory of student Tristan Bragg.
Bragg, who was going to be a senior at NP3 next month, died on July 11. He was 16.
"Tristan always knew how to make me smile," said Consuelo Munoz, one of Bragg's friends and students who organized vigil. "His singing always brightened my day."
NP3 school officials, students and their families attended the hour-long tribute to Bragg who was remembered for his love of Disney songs, the television show Dr. Who and "good food." Community chaplains were also on hand.
"There is nothing I can say to make Tristan's passing easier," Principal Tom Rutten said. "But together, we can cope."
Munoz along with classmates Celina Thomas, Melissa Kamekona, Veronica Kamekona and Vonnell Jarrell made blue ribbons which were passed out to vigil goers along with candles. Blue was Bragg's favorite color.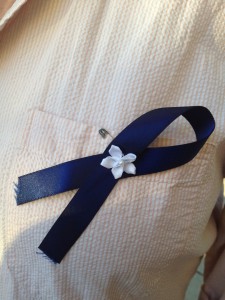 Said Thomas, "He was a sweet, artistic, funny and smart person and will forever be remembered in our hearts."
NP3 teacher Robert Hagarty recited the eulogy poem "Four Candles For You." Four blue candles – representing grief, courage, memory and love – were lit by students and placed in front of Bragg's photo near the podium.
Principal Rutten led a moment of silence in the student's memory followed by a message from Bragg's father.
"Having our family here this past week has been very comforting," said Allen Bragg. "But to have all of you here in remembrance of our son, that is special and I thank each and every one of you who took the time to support Tristan."
It has been a difficult summer for the NP3 community. Last month former NP3 student Ashley Tuffour lost her long battle with cancer.
"Two young lives have been taken from us too soon," said Rutten.
A memorial hosted by Tuffour's family was held June 28 at the Victory Life Bible Church during which friends, family and former teachers remembered her sweet personality and bravery.
Said Monica Amin, one of Tuffour's closest friends, "Never once did she complain about her disease, but instead always wished others with happiness."