BY CHRISTINA DIAZ
THE NATOMAS BUZZ | @natomasbuzz
The aroma from the Wicked Wich food truck fills your senses the second you drive near.
After a brief wait I was greeted by a lovely young lady with a very personable disposition who took my order.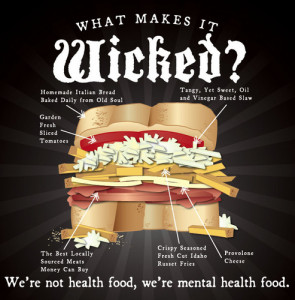 Upon hearing my name being called, I was given a literal monster of a sandwich. This thing had to weigh at least a pound. By looking at it you can see that although this is good food, this is not good (for you) food.
I ordered The Hillbilly. A mound of pulled pork, cheese, a colossal amount of coleslaw and french fries were all neatly tucked into two pieces of white bread resembling cheese-toast.
The meat was extremely tasty, each bite filling my mouth with flavor. Every piece of meat was coated in sauce, the coleslaw was a nice contrast to the meat making the sandwich more flavorful than overwhelming.
I was thankful they added a fork as a lot fell out of the sandwich.
On an impressive note, unlike most places, Wicked Wich's bread did not get soggy or break easily. The tough napkins which were greatly appreciated as I am a messy eater.
The Hillbilly and most other sandwiches from Wicked Wich are not for small eaters, so come with an empty stomach or plan to share with a friend like I did – this "wich" was enough for both myself and a friend, and we were both full at the end.
The line builds fast. When I pulled up, there were only three people ahead of me and when I left, a small crowd had formed, everyone anxiously awaiting their delectable meal.
Be aware that if you plan to pay using a credit card, you may have a longer wait as the device used to process payment is subject to phone/internet reception.
---
Find out when Wicked Wich is serving in Natomas next by following the food truck on Facebook here or Twitter here.