BY VALENTINA CARRILLO, IHS INTERN
THE NATOMAS BUZZ | @natomasbuzz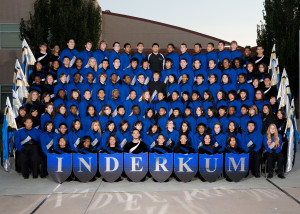 The Inderkum High School music program will host a Band/Color Guard Camp next week for new and returning students.
The camp will be held 9 a.m. to 4 p.m. each day, August 5-9, in the Inderkum band room. It is an extra-credit opportunity for music students, a chance to check-out lockers and instruments, get a head start on the fall season, and reconnect with fellow Band/Color Guard members before school starts on August 14.
"My goal as president is to make sure everything gets done and runs smoothly," said new senior band president Crystal Leung. "If someone needs help or has questions, they shouldn't be afraid to come to me."
Leung said she hopes to see the Inderkum band break last year's record scores in marching competitions. She would like the school to continue earning Excellent/Superior ratings in concert festivals and "keep the winning streak going" with Winter Percussion and Guard.
"This next year is my senior year and last year in band," she said.
The Band Boosters parent organization is also gearing up for another year.
"I hope that the wonderful, amazingly talented and steadily growing group of kids will continue the legacy of award-winning excellence that the IHS Music program has become known for," boosters president Heather Anderson said.
Inderkum's band has a busy schedule for the 2013-14 school year.
"We greatly appreciate the support of our school and the Natomas community, and hope to continue to be a source of pride not only to NUSD, but also to the city of Natomas," Anderson said.
---
The music program at Inderkum has its own website: InderkumMusic.com.