THE NATOMAS BUZZ | @natomasbuzz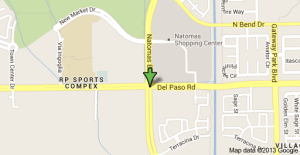 A man seen walking naked in Natomas today has been hospitalized.
At about 1 p.m. on June 19 several witnesses reported seeing an unclothed male walking and jogging along Truxel Road, at one point falling down in the street where it intersects with Del Paso Road.
Witnesses said the man was then seen in the Park Place Shopping Center, near Raley's, doing cartwheels in front of police officers who responded to the scene.
Officers determined the man was ailing and he was immediately transported to an area hospital for treatment, police spokesman Officer Dough Morse said.
"It is unknown what prompted him to be unclothed," said Morse, adding that no criminal charges had been filed.
The incident marks the third in recent weeks of police officers responding to reports of public nudity.
On June 3, a man was hospitalized after stealing two cans of windshield clean from the Aisle One gas station on Arena Boulevard and spraying it on himself in a field between Duckhorn Drive and Interstate 80.
Two days later, law enforcement responded to a call of a naked man walking along the East Drainage Canal levee near Northgate Boulevard and Highway 160.