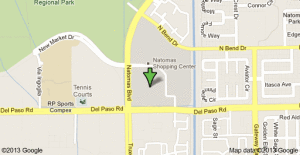 THE NATOMAS BUZZ | @natomasbuzz
updated with new info 12:30 p.m. on May 16, 2013
A Natomas grocery store is stepping up security measures after a woman's purse was stolen from her shopping cart yesterday.
The woman was shopping in the Raley's located at 4650 Natomas Boulevard when her purse was stolen and police called at about 4:24 p.m. Wednesday, May 15.
According to police and witnesses, the victim along with store employees and other customers chased two adult suspects and attempted to confront them in the shopping center parking lot.
Police said the suspects were picked up by a waiting vehicle, described only as being red in color, and left the area. A second vehicle – a black BMW – was towed from the scene and impounded on suspicion of being a stolen, police spokesman Doug Morse said.
"We did recover evidence of possible stolen property (from the BMW)," said Morse.
Store manager Mike Bodwell said the store's Asset Protection Dept. was alerted of the incident. Enforcement and surveillance will be stepped up in the store as a result, he said.
Police said the incident is considered grand theft of a person. The investigation is ongoing.