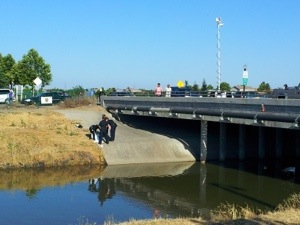 PHOTO BY MARC LAVER
THE NATOMAS BUZZ | @natomasbuzz
updated with new information 7 a.m. on May 22, 2013
The body of a woman found floating yesterday in a Natomas drainage has been identified by the Sacramento County Coroner as 73-year-old Alice Marie Duran of Sacramento.
The cause of the Duran's death is being investigated by law enforcement, but signs of foul play were not initially apparent, according to Sacramento Police spokesperson Michele Gigante.
At about 4:38 p.m. Tuesday, May 21 a jogger spotted the body floating in the canal from the Bridgecross Drive overpass, just east of Natomas Boulevard.
Police officers and fire fighters responded to the scene and removed her from the water.