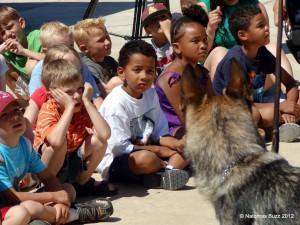 Police dog Bodie visits with Summer Oasis participants last year. / Photo: C. Shannon
THE NATOMAS BUZZ | @natomasbuzz
Registration is now under way for the 3rd annual Summer Oasis day camp in Natomas.
Summer Oasis will be held 9 a.m. to 1 p.m. daily from June 3 through July 26 at Regency Park. Regency Park is located at 5500 Honor Parkway in Natomas.
The program is open to youngsters in 1st through 6th grades and includes activities such as arts and crafts, sports, physical fitness, group games, water play and more.
The fee for the program is $100; field trips will cost more – about $20 per outing.
The Summer Oasis program in Natomas is funded by Measure U money. Sacramento Vice Mayor Angelique Ashby's office will provide additional funding for extras like field trips, special events, activities, and more.
"We also were able to get Parks & Rec to raise the camp ceiling to 200 kids since it is so popular,"said Michelle Kille, Ashby's director of public policy. "Most other camps are at 50-100 kids for registration."
Register online by clicking here. Summer Oasis programs will also operate at William Land Park, Glenn Hall Park and Marriott Park from June 17 through August 9.