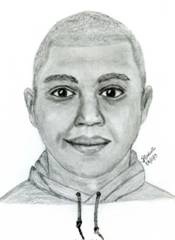 THE NATOMAS BUZZ | @natomasbuzz
The Sacramento Police Dept. seeks the public's help isentifying a man who followed a Natomas woman to her home.
On March 22, at about 8:20 p.m., an adult victim was on a walk near Duckhorn and Saintsbury Drive when she encountered a man walking in the opposite direction.
The victim continued on her walk and felt that someone was following her. She turned around and saw the suspect behind her.
The victim then walked across the street and looked at the suspect. He stared at the victim for several seconds and then started running. The victim then ran home.
About 10 minutes later, the victim heard excessive doorbell ringing followed by excessive knocking at the front door. She checked the peep hole and saw the same suspect she encountered earlier standing outside the door.
The victim retreated, locked herself in her room and called 911. She could then hear the suspect open the side gate to her residence.
The victim went downstairs, turned on the back porch light and saw the suspect standing outside in the back patio area. The victim's brother-in-law arrived and the suspect fled on foot.
The suspect is described as a black or Hispanic man, 20 to 25 years-old, standing 5'8" to 5'10" tall, weighing about 180 pounds with an athletic build. He had a crew-cut style haircut, wore a gray hooded sweatshirt and black basketball shorts with a single horizontal white stripe on the bottom of the shorts.
A police sketch artist worked with the victim to craft a suspect composite.
The Sacramento Police Department urges anyone with information in identification of this subject to contact Crime Alert at (916) 443-HELP (4357) or text in a tip to 274637 (CRIMES). Enter SACTIP followed by the tip information. Callers can remain anonymous and may be eligible for a reward of up to $1,000.