BY TREVOR HORN
THE NATOMAS BUZZ | @natomasbuzz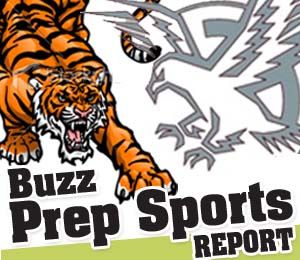 The Inderkum High School girls' soccer team beat River Valley High School 3-0 Monday and holds sole possession of first place in the Tri-County Conference.
Inderkum (12-4-3 overall, 6-0-1 TCC) had just a one-tie advantage over River Valley High going into the match. The Lady Tigers are the only undefeated team in the conference with one week left in the regular season.
Ivarie Bourrage scored two and Kylie Daldonso scored one goal Monday for Inderkum.
The Lady Tigers have outscored their opponents 23-2, including a 3-1 win at Yuba City High School and a 3-0 shutout over Woodland High School last week.
The only blemish on Inderkum's TCC record this year was a 0-0 tie with River Valley High on March 20.
The Lady Tigers host Pioneer High School 6 p.m. Wednesday the Inderkum football stadium.
Natomas High remains in the third and final playoff spot after tying Pioneer High, 1-1, on Monday.
Three teams from the TCC, Pioneer Valley League and the Capital Athletic League will complete the nine-team Sac Joaquin Section Division III playoff brackets.
There is still no date set for the makeup of the second half of the Natomas High vs. Inderkum game which was postponed due to unsafe field condition on April 11. The Lady Nighthawks lead that game, 1-0, and the two teams are expected to face each other during an already scheduled regular season finale on April 29 at Inderkum.
The Lady Nighthawks host Yuba City High School 7 p.m. Wednesday; senior night.
Baseball:  Inderkum baseball lost the first game of a pivotal three-game series at Pioneer High 8-1 on Monday.
The Tigers (11-11, 2-8) did get the first two wins in TCC play last week against River Valley High with 12-11 and 2-1 victories thanks in part to a one-run complete game from Robby Beckman on Friday.
The Tigers are not mathematically out of the playoffs despite the 2-8 start to league play. With five games left in the regular season, statistically Inderkum could still earn the third and final Sac Joaquin Section Division III playoff spot but three things to happen:
Inderkum has to win the final five games. Woodland High needs to lose the last five games and River Valley High needs to sweep Woodland High and also get lose to Pioneer High.
Inderkum hosts Pioneer High 4 p.m. Wednesday.
Natomas High baseball lost 17-o to Yuba City High School on Monday, falling to 2-14 overall and 0-10 in TCC play.
The Nighthawks did score a fourth inning run against the Patriots Friday – the first run Natomas High has scored in league play.
Nighthawks host Yuba City on Friday in a three-game series with first-place Yuba City before ending the season with a three-game series with Inderkum next week.
Softball: The Lady Nighhawks have had a rough go in league play thus far. Natomas High lost to Inderkum (14-1) and Woodland High (15-0) last week in what is arguably the best D III league in the section.
Natomas High (7-15, 0-6) has relied on the steady play of junior Jervoni Culp at the plate and on the mound. Culp leads the league and is fifth in D-III with 109 strikeouts in as many innings this season. Culp is also batting .370 from the leadoff position and leads the league with 28 runs scored.
The Lady Nighthawks are on the road against River Valley High today and host first place Pioneer High on Thursday.
Inderkum (5-10, 1-5) won the first game in league play with the 14-1 win over Natomas High last Tuesday and senior Cailin Garmon was hopeful the win would turn over to the next game.
However, Yuba City High won 2-1 despite another great pitching performance from Garmon, who had 16 strikeouts in 11 innings in the two complete games last week.
Garmon leads the league with 19 stolen bases, is second in strikeouts with 86 (in just 62.1 innings), tied for second with four home runs and is fifth in the TCC in batting average (.452) and ERA (3.14).
Inderkum can play the role of spoiler today in its home game against Woodland High, which is tied with Pioneer High for first in league play.
The Lady Tigers then are on the road at River Valley on Thursday.
Boys' Tennis: Inderkum beat Natomas High 9-1 Wednesday and the Nighthawks lost to Yuba City last week. The TCC singles tournament was held yesterday, but no scores were reported. The double tournament is set for Wednesday.
Boys' Golf: Inderkum lost to River Valley High 228-250 Wednesday at Haggin Oaks. CJ Spencer led the Tigers with a seven-over par 43 on the par-36 course.
Track and Field: Natomas High is at Yuba City High on Wednesday.
---
Call in scores or give story ideas to Trevor Horn at [email protected] or call at (916) 390-8593. Follow Trevor on Twitter @trevhorn