THE NATOMAS BUZZ | @natomasbuzz
North Natomas Little League Coach Valeri Garcia has won Positive Coaching Alliance's coveted Double-Goal Coach Award for her positive impact on youth athletes.
The award – named for coaches who strive to win while pursuing the more important goal of teaching life lessons through sports – carries a $250 prize, a trophy and mention within the websites and newsletters of Positive Coaching Alliance and the Liberty Mutual Insurance Responsible Sports program.
"Valeri helps youth athletes win on and off the field," said Jim Thompson, founder and CEO of Positive Coaching Alliance (PCA) and author of eight books on youth sports, including The Power of Double-Goal Coaching. "By creating a positive, character-building youth sports experience, and serving as a Double-Goal Coach, Valeri helps youth develop into better athletes and better people."
Garcia, a Program Advisor at UC Davis's Student Academic Success Center, has known since about age eight that she wanted to coach.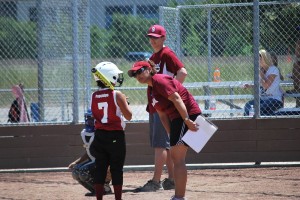 "I really love the holistic development sports can provide," she said. "Almost every job interview I've ever been part of, the topic of sports comes up. I want to give that back to kids, and not just the actual sport itself, but what sports can do."
At UC Davis, Garcia conducts workshops based on Mindset, the book by Stanford University Psychology Professor and PCA National Advisory Board Member Carol Dweck, which emphasizes individual growth through effort, rather than reliance upon talent.
"That focuses me as a coach on making sure my practices are about development and learning," Garcia said. "If you praise athletes' effort, they're going to want to try harder."
Said Julie Brassard, Liberty Mutual Insurance manager of sponsorships, "We applaud coaches like Valeri Garcia for effectively using sports to teach valuable life lessons to our youth."
Founded in 2007, the program serves as a means to highlight the positive impact that everyday, responsible actions can have on our youth. The program provides resources for parents and coaches at ResponsibleSports.com to help children reap the full benefits of playing a team sport. The online community incorporates podcasts, videos, and best practices on youth sports topics that provide practical, real-world advice. Parents and coaches also can complete guides on positive sports mentoring that offer best practices for handling challenging sports scenarios.