THE NATOMAS BUZZ | @natomasbuzz
Two Rivers Elementary School students will perform the classic "Tortoise Versus The Hare: The Great Race" this weekend in Natomas.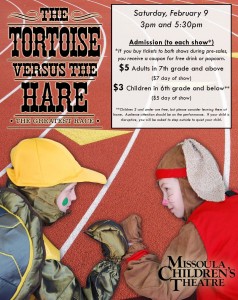 Two performances will be staged at 3 p.m. and 5:30 p.m. on Saturday, Feb. 9. The shows culminate a week-long after-school program taught by a traveling theater group designed for students interested in the performing arts.
The Two Rivers Elementary School PTA invited the Missoula Children's Theatre for the week-long visit to the south Natomas campus.
"We did it to encourage more balance in our school and create the energy of community," PTA president Nancy Fairbanks said.
A tour team arrived Monday with a set, lights, costumes, props and make-up – everything it takes to put on a play, except the cast. Ninety students auditioned that afternoon and 60 where chosen to perform in the stage production.
Two Rivers students have rehearsed from 2 p.m. to 6:30 p.m. every day after school this week and the two directors working with the students are being hosted by two families, Fairbanks said.
Fairbanks said the program is being funded mostly through ticket sales, but donations will also be accepted to cover costs of the program.
Pre-sale prices for "Tortoise Versus The Hair" tickets are $5 for adults and $3 for children and include a coupon for a free drink or popcorn. Pre-sale tickets may be purchased in front of the school's multi-purpose room 2 p.m. to 6:30 p.m. today and tomorrow.
Tickets will cost $7 for adults and $5 for children at the door on Saturday.
Two Rivers Elementary School is located at 3201 West River Drive.